European elections: PM launches Tory campaign with UKIP broadside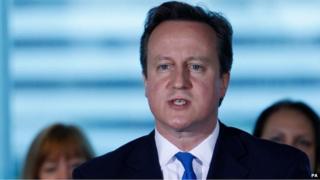 UKIP MEPs are untrustworthy and do not stand up for the UK in Europe, David Cameron has said.
The PM took direct aim at the party aiming to overtake the Tories in May's Euro elections, saying they seldom "bothered to vote" in Brussels.
He was speaking at the launch of the Conservative European and English local election campaign.
UKIP accused him of "unfairly insulting millions of voters", many of whom "normally back his own party".
Mr Cameron is seeking to shift the focus from ex-culture secretary Maria Miller's expenses to the EU-wide polls, which are scheduled for 22 May in the UK.
In a speech at Manchester airport, he categorised his rivals in "two extremist camps", with one professing love for the EU, and the other hate.
Both camps were neglecting the UK's national interest, he argued, re-iterating his pledge to reform the UK's relationship with the EU and hold an in/out referendum in 2017 if the Conservatives win a majority at the 2015 general election.
"If you want real change in Europe that works for you, for your family, for your business, then the Conservative Party is the only party which can deliver for you," Mr Cameron said.
He directed specific criticism at Labour, who he accused of having signed off "power to Brussels, summit after summit", and the Lib Dems, who he said were "absolutely devoted to their dream of ever closer union".
'Political earthquake'
But his strongest broadside was reserved for UKIP, which campaigns for the UK to leave the EU - and which Mr Cameron has tended to avoid attacking at length in previous campaign speeches.
"When it comes to standing up for Britain in Europe, is there anyone you would trust less than a group of UKIP MEPs?" he asked.
"They talk the talk in Britain, but as soon as they're on that plane to Brussels they change completely. When they do actually bother to vote, they don't stand up for Britain. Indeed their own leader has said they cannot change a thing in Brussels.
"In contrast, we are the only party with a clear plan. Renegotiate. Get the best deal for Britain. Then put the decision to the British people."
Responding to the comments, UKIP's director of communications Patrick O'Flynn said: "By branding anyone who wants to get Britain out of the EU an extremist, David Cameron is not only unfairly insulting millions of UKIP voters but also doing the same to more than half of those who normally back his own party.
"Anyone who thinks Britain would be better off coming out of the EU and thereby restoring the ability to control its own borders now knows what to do on May 22nd: vote UKIP and cause a political earthquake.
"Wanting your own country to be self-governing once again is not an extreme position but just plain common sense."
The clashes come in the wake of a protracted row over Mrs Miller's position.
She resigned as culture secretary after admitting that she had wrongly claimed £5,800 for mortgage interest and apologising for the way she handled an inquiry into her expenses.
'Error of judgment'
The PM had repeatedly defended her.
Earlier, the Times newspaper reported that Chancellor George Osborne led a "revolt to force Miller out", but Downing Street sources said this was "rubbish".
Mr Cameron said he was "very sorry" to accept her resignation on Wednesday morning, telling her she should be "extremely proud" of her work in government.
Mrs Miller has been replaced by the Conservative MP for Bromsgrove Sajid Javid, an ally of the chancellor who was promoted from his previous job as Financial Secretary to the Treasury.
The Times said his elevation had been "taken as evidence of a further strengthening of Mr Osborne's grip on government" - and that Mr Osborne and Tory election chief Lynton Crosby had warned about the damage being done to the party's electoral prospects by the row.
On Wednesday, UKIP leader Nigel Farage visited Mrs Miller's Basingstoke constituency, arguing that the row "reflected very badly on David Cameron".
"He has completely misjudged the public mood on this," Mr Farage said.
Labour leader Ed Miliband also accused Mr Cameron of a "terrible error of judgement" in failing to sack her sooner.
Meanwhile, Conservative MP Michael Fabricant has also been sacked, from his post as the party's vice-chairman, partly for tweeting that it was "about time" Mrs Miller resigned.
The active user of the social media site said he had been asked to resign and refused, so was sacked "over HS2 and my views on a recent cabinet minister".