UK prepared to 'make sacrifices' to help Ukraine - Hague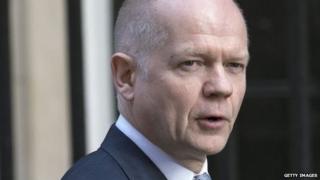 The UK is ready to make economic "sacrifices" in its efforts to prevent Russia "destabilising" Ukraine, Foreign Secretary William Hague has said.
He told the BBC further sanctions were being planned, but there was no "fixed red line" to decide how far Moscow needs to go before they are imposed.
But Mr Hague said he thought Russia was encouraging separatist groups in eastern Ukraine.
Russian President Vladimir Putin has rejected the accusation.
Tension has been steadily rising since Russia annexed the Crimean peninsula, formerly part of Ukraine, last month.
The move, condemned as illegal by Kiev and the West, followed the ousting of Ukraine's pro-Moscow President Viktor Yanukovych in February.
Pro-Russian rebels have seized buildings in about 10 towns and cities across parts of eastern Ukraine that form the heartland of the country's heavy industry.
'Rules'
Thousands of Russian troops are reported to be deployed along the border between Ukraine and Russia. Kiev fears any crackdown on pro-Russian groups could trigger an invasion.
The European Union has imposed sanctions, including travel bans and asset freezes, on some individual Russian and Ukrainian officials.
But meetings have been taking place in recent days, aimed at setting out wider economic punishments if the situation worsens.
Asked on BBC Radio 4's Today programme if he was ready to see the City of London, which has a large amount of trade with Russian firms, "taking its hit", Mr Hague replied: "Yes. We are ready to play our part in that. The issues at stake here are of enormous importance, of a rules-based international system and respect for the independence and sovereignty of a nation.
"So, yes, we absolutely are ready to do it, in co-operation with other nations also making their own sacrifices."
Mr Hague said it was up to European heads of government to decide the form of further sanctions, adding: "I think we will know that when we see it."
As for what would provoke such action, he added: "Because Russian activities in destabilising Ukraine have taken several forms, I don't think we can set a fixed red line."
There could be a "serious effect on the Russian economy", the foreign secretary warned, although he admitted: "It's true that it's difficult for western nations to affect what's happening on the ground in the short term."
'Viable state'
Asked why no sanctions had been imposed on Mr Putin, Mr Hague said he had "kept open lines of communication", arguing: "It's also important to keep diplomacy as a possibility... I'm sure there's a diplomatic solution if Russia is willing to have one."
He said: "It's not for those of us in the rest of the world to dictate the constitution of Ukraine. Ukraine has the right to be a viable state and to be a successful country. What appears to be the strategy of Russia is to destabilise Ukraine and prevent it from being an independent or economically successful country."
He added: "No one has ever intended in the European Union that Ukraine shouldn't have a strong connection with Russia... The effort to stop it functioning as a country is wrong and we should resist that."
The Kremlin said in a statement that recent unrest in Ukraine was "the result of the unwillingness and inability of the leadership in Kiev to take into account the interests of Russia and the Russian-speaking population".
Ukraine's acting President Olexander Turchynov has said an "anti-terrorist operation" would be launched against gunmen occupying government buildings, but a deadline on Monday passed with no large-scale action from Kiev.
The pro-Russian groups are demanding referendums on either greater autonomy or an option to join the Russian Federation.