Small-scale producers' group stages Defra protest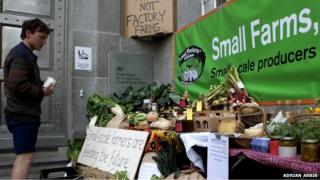 A group backing small-scale farmers has urged ministers to commit to policies that would give them better support.
The Land Workers' Alliance, which staged a protest outside the Department for the Environment, Food and Rural Affairs (Defra) on Thursday, said their interests were being marginalised.
Policies including those relating to farm subsidies favoured large-scale industrial agriculture, the group said.
Defra said it was helping smallholders through rural development schemes.
The group, which was formed last May and has about 250 members, demanded an upper limit on farm subsidies paid to wealthy landowners of £150,000.
Defra is planning to reduce payments above about £120,000 under the EU Common Agricultural Policy (CAP) from 1 January 2015 by 5% - but does not support the idea of imposing an upper limit.
Spokeswoman Jyoti Fernandes told the BBC this was "not good enough".
Data from England, Northern Ireland, Wales and Scotland obtained by the BBC in 2012 showed that 889 landowners received more than £250,000 the previous year. Of those, 133 were given more than £500,000 and 47 of those were given more than £1m in subsidy.
The government argued then that if it did impose a limit on CAP payments, "to avoid losing subsidies, bigger farms would restructure and the only gainers would be lawyers".
But Ms Fernandes said it was feasible to track the ultimate recipients of CAP payments no matter how wealthy landowners sub-divided their land.
Funds saved from the reduced subsidies to rich landowners could be diverted to support the "wide selection of people" who want to work on small farms but were being thwarted by various administrative barriers, she continued.
"Right now the price of getting property if you want to buy it is pretty disproportionate to the income that you'll get back from small-scale farming," she said.
"That makes it difficult to take out a loan, so people who want to get into it have to have some capital behind them and they have to accept that they might not get that return back."
Planning rules needed to be relaxed so that land could more easily be designated as agricultural, and houses built nearby to house those cultivating the land, she added.
Greenbelt land - which has not been built on - surrounding cities was ripe for this type of agricultural development, Ms Fernandes argued.
The group also rejected a warning by the UK environment secretary in January that the EU could become a "museum of world farming" if it fails to embrace technological change.
Owen Paterson said in January that EU famers must not be "anti-innovation".
Sir Julian Rose, an organic farmer from South Oxfordshire and member of the group, said: "The small farmer, unfortunately, partly due to the EU subsidy system, is on the very, very bottom end of the scale.
"The big farmer gets the rich rewards, and the small farmer gets the crumbs.
"But if you actually look at the picture of how the world is fed, you'll find that small- and medium-sized farms are predominantly the main world feeders.
"So it is disproportionate that the political position should be to support the opposite end of the spectrum from the ones who are really feeding the people with good food."
He said he had attended the protest to exert pressure on the government to increase taxes on air and sea freight of food, to make local produce more competitive.
Simon Fairlie, editor of The Land magazine, suggested that many members of the alliance had been motivated by a sense that the National Farmers' Union (NFU) was not protecting their interests.
"I would like to see the NFU dissolved," he said. "It's not a farmers' union, it's a landowners' union."
Too many barns were being converted into housing for wealthy second-home-owners, he argued.
"That is not in the interest of farming, because then those buildings are not available for the use of farmers, so it pushes the price of farm buildings up."
The NFU declined to comment.
But a spokeswoman for the Department for the Environment, Food and Rural Affairs said: "We appreciate the role that smallholders play in supporting the rural economy and agriculture."
Although farmers of less than five hectares are seeing their direct subsidies cut to reduce administration costs, they would still be entitled to apply for "agri-environment and other rural development schemes", she continued.
Currently less than just 1% of agricultural land in the UK was given over to farms of less than five hectares, she added.