Can Clegg's European strategy revive Lib Dem fortunes?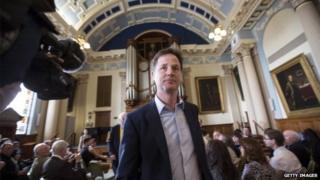 Just minutes before Liberal Democrat leader Nick Clegg is due to arrive at Colchester Town Hall, I notice that Paxman is in the room.
But Mr Clegg need not worry.
It's one of several portraits hanging on the wall and depicts Alderman James N. Paxman, the Mayor of Colchester and High Sheriff of Essex at the end of the 19th Century and beginning of the 20th.
Around 60 activists have gathered, waiting patiently as Mr Clegg is delayed by problems on the rail line from London.
As chairs are put in place and posters and banners prepared, the conversation with reporters revolves around one theme: just how bad will these elections be for the party?
"However dark the night, it always gets light again in the morning," says one activist cheerily.
"I'm not sweating because of our situation, but because I have walked here!" he adds.
'Team IN'
Currently, the Lib Dems have one MEP for the East of England, and 11 others across the UK.
There are 73 MEPs representing the UK in total.
Some have predicted a complete wipe-out for the Liberal Democrats in Brussels and Strasbourg: annihilation.
So the party has taken a decision which on the face of it might look odd.
Yes, an unpopular party has hooked itself squarely to supporting a possibly unpopular and certainly unfashionable cause.
Or, to borrow language from Mr Clegg's introduction to the party's 51-page manifesto for this campaign, "we are now Britain's only party of IN".
It adds up to this: the European Union might not be the country's most popular cause right now, but it is more popular than the Lib Dems.
Polls suggest those who share the Lib Dems' instinctively pro-European outlook significantly outnumber those who vote for the party.
So the charm offensive is on, to a targeted chunk of the electorate.
A banner at the back of the room has just one word on it, with two letters: "IN."
Activists standing behind Nick Clegg during his short speech hold placards saying, "I'm in Team IN" and "Fighting for British jobs".
It is Mr Clegg's central message. In fact, at this rally, his only one.
'Missing in action'
Leaving the EU would amount to "monumental economic vandalism", he says, claiming "isolationists have got away with peddling myths and falsehoods".
Despite the party's dire opinion poll ratings, Lib Dems take comfort from the fact this is a European Parliament election campaign in which the biggest European question of all, staying in or getting out, is centre stage.
Their position is clear cut. So, in an equal and opposite way, is UKIP's.
But both the Conservatives and Labour find themselves performing an awkward shimmy on the European question.
"David Cameron and Ed Miliband are missing in action", is how Mr Clegg put it.
In other words, neither can be as categorical as the Lib Dems or UKIP.
The big question is whether the electorate has made its own categorical decision on Mr Clegg and his party.