Local councils to get more betting shop powers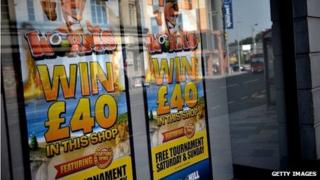 Local authorities will get more powers to decide whether to allow new High Street betting shops to open, the government has announced.
Councils will be able to refuse a planning application if they are worried about the number of shops.
The Department for Culture, Media and Sport said concern had increased over "clustering" bookmakers in some areas.
Bookmakers said the number of betting shops had remained fairly static for a decade and was half 1970s levels.
'Proper voice'
Ministers are expected to announce the move this week as part of a review of gambling policy across the nations of Britain.
There are also set to be further measures to improve protection for people who play gambling machines.
The government said it wanted give local communities a "proper voice on the issue so that their views are taken into account when plans for a new betting shop are submitted".
Under the current system planning applications are not always needed for new betting shops to open.
They can move into premises left empty by a business considered to be in the same category, such as estate agents, banks and building societies.
The changes will put bookmakers into a different planning class so councils can consider new applications.
Research in February by Deloitte suggested that 52% of people wanted to see fewer betting shops.
The government will also make gambling operators show how they would comply with player protection measures, such as messaging in windows, when they apply for a licence.
Last month the department asked the Advertising Standards Authority to review the codes for gambling advertising to see whether any change was needed to the rules to improve player protection.
This is due to be completed by the autumn.
'Left powerless'
Earlier this year council leaders called for tougher powers to tackle the "blight" of betting shops.
The Local Government Association (LGA) said that rules needed changing in England and Wales to prevent bookmakers being "clustered" in town centres.
It said existing planning and licensing rules did not allow them to consider the concerns of local communities.
The LGA, which represents 370 councils, said local authorities were "left powerless" when it came to limiting the number of shops opening in a given area.
It said the number of betting shops in some parts of London had doubled in the past decade.
The Association of British Bookmakers said there had been "no proliferation" in the overall number of bookmakers in recent years.
In a submission to a government consultation last year it said bookmakers "add to the vitality and vibrancy of the High Street" and drive footfall to other businesses.
It added that the location of new shops was a response to customer demand and argued bookmakers were not as highly concentrated as some other retail services.
According to the Office for National Statistics, the average household in the UK spent £166 on gambling last year. That is up 50 pence on the previous year. It is 60 pence more a week than the average household spent on going to the cinema, theatre or museums combined.