Lenny Henry racism row candidate quits UKIP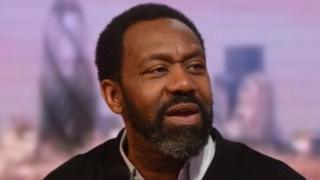 A UKIP council candidate has resigned his membership of the party following controversial remarks about comedian Lenny Henry.
William Henwood tweeted that Mr Henry should emigrate to a "black country" and compared Islam to the Third Reich.
He did so after the comedian said there should be more black and ethnic minority people in creative industries.
UKIP said comments by Mr Henwood, from north London, did not represent the party's views.
A party spokesman said it had been "mutually agreed" that his leaving the party "would be the best course".
Asked about his tweets, Mr Henwood, who is on the council candidates' list in Enfield, told the BBC: "I think if black people come to this country and don't like mixing with white people why are they here? If he (Henry) wants a lot of blacks around go and live in a black country."
His comments provoked condemnation from senior figures in other parties, with Conservative Health Secretary Jeremy Hunt calling them "absolutely disgusting" and saying they were racist.
Labour shadow communities secretary Hillary Benn said the comments were "deeply wounding and insulting," adding: "It is a profoundly un-British attack on someone who is as British as any of us."
But he was defended by Nick Griffin, leader of the British National Party, who said the "real racism" was the "bullying by the BBC and by the political elite of ordinary British people, of various parties, who stand up and say what most ordinary people think" that "we are going to be an abused minority in our own homeland".