Councils to get betting shop planning powers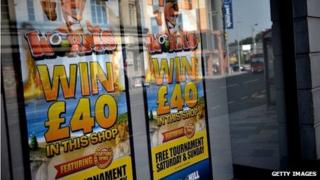 Councils in England are to get stronger powers to prevent "harm" being done by an "explosion" of bookmakers on High Streets, the government has announced.
Betting shops are currently in the same building usage category as banks and estate agents, meaning no planning permission is needed to open one.
This will be changed so that local authorities can scrutinise proposals.
Planning minister Nick Boles said the measure would help to promote "healthy and vibrant" town centres.
But Labour warned the change would do "nothing" to help areas that already had too many betting shops.
The government also announced it was also looking at controls on gambling advertising, including requiring betting firms to show how they were complying with social-responsibility codes when they applied for a licence.
It has set out plans to improve protections for players on fixed-odds betting terminals, including making those who want to bet more than £50 in one play pay over the counter, meaning they have to interact with staff.
Betting shop customers can currently lose up to £300 a minute on these machines.
'Explosion'
Mr Boles said: "This government is taking action to support healthy and vibrant local High Streets.
"This is part of a wider set of measures designed to get empty and redundant buildings back into productive use and make it easier for valued town centre businesses like shops, banks and cafes to open new premises, while giving councils greater powers to tackle the harm to local amenity caused by a concentration of particular uses."
Communities Minister Stephen Williams said: "Across the country many people are concerned about the explosion in the number of betting shops in some High Streets.
"The coalition government is determined to build a stronger economy and a fairer society with healthy and diverse High Streets that aren't dominated by betting shops, this is why we are now giving councils tough new powers to prevent the proliferation of betting shops in their area."
For Labour, shadow sports minister Clive Efford said: "After months of dithering by [Prime Minister] David Cameron, it is disappointing today's proposals appear not to have been properly thought through.
"The government's new £50 limit for fixed-odds betting machines is a sham."
Mr Efford said only 7% of plays on the machines were above £50.
He added: "The government is performing only a partial U-turn on planning powers but is doing nothing for those local authorities that already have problems."
The Local Government Association, which represents councils, said it was "pleased" the government had "listened to our concerns".
Its licensing spokesman, Tony Page, added: "We need to understand the detail of how these proposals will work in practice, and when they will take effect, but this could be a significant step in the right direction.
"Councils are not anti-bookies, and understand that betting shops can be an important part of local communities that create jobs for local people.
"However, we know how concerned people are by clusters of betting shops taking over their local High Street, and there are also fears that people losing money through fixed-odds betting terminals are turning to payday lenders and loan sharks to pay off debts or fund their gambling."