Boris Johnson says Cameron will act on union strike rules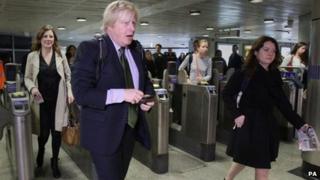 David Cameron will act quickly to change the law on union strike ballots if the Conservatives win the general election, Boris Johnson has said.
The London mayor said he had been given personal assurances by the prime minister that he would "deliver a deal on day one of a new administration".
Mr Johnson has called for strikes to be unlawful unless 50% of staff in a workplace take part in a ballot.
Mr Cameron said in February that "the time had come" to look at the issue.
Under the current law, a strike can take place if it is backed by a simple majority of those balloted.
In the case of the current 48-hour strike Tube strike, and earlier strikes in February, 77% of RMT members who voted in the ballot last year backed action.
But the number of eligible RMT union members who took part was lower, at 40%, while London Underground said only 31% of the total workforce had actually voted in favour of the action.
The Conservatives have, since 2010, shied away from talk of changing strike laws with their Liberal Democrat coalition partners understood to have resisted such a move.
'Small minority'
But the series of stoppages over the past few months - called in protest at plans to close ticket offices and axe 950 jobs - has prompted renewed calls for action among Conservatives.
Mr Johnson told BBC News action was needed to prevent "wildcat" strikes brought about by a "small minority" of the workforce.
"What we need is legislation so that when there is a ballot for strike action... the number of people participating in the ballot, of the relevant workforce, has to exceed 50% of that relevant workforce before you can have a strike," he said.
Asked whether the prime minister had decided on the issue, he replied: "Yes, he has. I have had it from his lips, in public, that on day one of a new Cameron administration, and let's hope it is a majority government, he will be able to deliver a deal that gives us exactly the protection that Londoners want."
'Crusade'
Mick Cash, the acting general secretary of the RMT union, called Mr Johnson's remarks a "wholesale assault" on trade unions' right to strike.
He accused him of using Londoners "as pawns in his personal crusade" to lead his own party.
Speaking in February, Mr Cameron suggested he would consider a change to the law.
"When you see how many people rely on these essential public services, the time has come to look at what changes we can make to see if it is possible to see fewer of these strikes in the future," he said.
Downing Street later said the issue was "on the table" and ways of "improving" existing legislation would be considered as the party drew up its manifesto for the 2015 general election.
At the moment, only members of the armed services, the police, and prison officers - regarded as essential public services - are prohibited by law from withdrawing their labour.