Selfies, Pirates and the battle for eighth place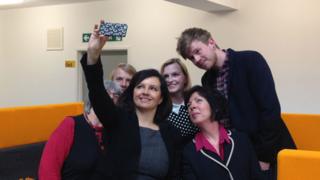 The constituency is the size of a small country, the voters have no idea who you are and it's just started raining. Welcome to life on the European election campaign trail in north-west of England. It's a lot more fun than it sounds...
"I need your vote. If you're going to vote at all, vote for Chris Davies!"
In a sleepy cul-de-sac somewhere near Stockport, under leaden skies, Chris Davies, Liberal Democrat MEP of 15 years standing, is engaged in the toughest fight of his political career.
His party is hovering around 8% in the national polls, which means it faces the very real threat of losing all 12 of its seats in the European Parliament.
The North West constituency is vast - if it was a country it would the 13th largest in the EU, says Mr Davies - so there is only so much benefit to be gained from knocking on doors.
But the MEP seems determined to wrestle wavering voters into submission one at a time.
His latest target is startled to be doorstepped by an MEP - she has never met one before - and doubly shocked to meet a man from the BBC.
"You're joking me!" she yelps. Everyone is laughing now, but Davies retains his focus, "Try to get to the polling station on 22 May," he tells her, "because Chris needs it."
'I'll think about it," she says. The only thing stopping her, she tells me as Mr Davies heads off to the next doorstep, is that she doesn't think much of the coalition government.
Most of the voters Mr Davies meets say they don't like the Lib Dems being in coalition with the Tories at Westminster. He sometimes attempts to defend Nick Clegg's record but prefers to highlight his own achievements in Brussels, particularly in the field of environmental policy.
"There is no coalition agreement in Brussels so I've got used to ploughing my own furrow," he explains later.
The North West is "my territory, my turf", he says, and "if London people were to try and tell me what to do up here they would get savaged, frankly. Get told to 'keep out'".
His campaign has been hampered by Lib Dem local election losses, robbing it of boots on the ground in big urban centres such as Liverpool and Manchester, so he is concentrating all his efforts on areas with Lib Dem MPs.
'Bad decisions'
He believes he can retain the seat. Would he blame Nick Clegg if he didn't?
"If I am swept away by a tidal wave, a tsunami, there is nothing I can do about that, there is no-one to blame. If we have made bad tactical decisions, we have done so for good reasons."
Under the complicated proportional representation voting system used in European elections, Mr Davies is effectively fighting for eighth place - the final slot that guarantees a seat in the Brussels Parliament in the North West.
Only south-east England, with 10 MEP seats up for grabs, has a larger presence in Brussels.
The Green Party's Peter Cranie, a college lecturer with a background in anti-racism campaigns, missed out on eighth place in the North West by just 0.3% in 2009 - to British National Party leader Nick Griffin.
"I had to watch Nick Griffin being sent to Brussels, and, when I went in to work the day after, I found out I was being made redundant. It was the worst 24 hours of my life," he recalls.
A recent YouGov poll put the Greens ahead of the Lib Dems by a percentage point, boosting Mr Cranie's chances of having to leave his job for more positive reasons on 23 May.
He will take no pleasure in unseating Chris Davies, he says, but the Greens are determined to punish the Lib Dems for supporting the Conservatives in government on issues such as fracking and nuclear power - as well as what he says is growing inequality in the UK.
Things are looking less rosy for Nick Griffin.
'Gender equality'
The BNP leader says he is "fighting to win" but admits it will be an uphill struggle, blaming his party's woes on the BBC's "promotion" of UKIP leader Nigel Farage and the fact that many of his voters are "going back to Labour".
"Everyone is going to face an uphill struggle with UKIP unless enough people realise it is a complete con. They are not against immigration at all," he tells me.
"The minute we talk to people and explain this, they say they will vote for us, but statistically we can't speak to everyone in the region."
He adds: "When the UKIP bubble bursts we will still be here."
UKIP's lead candidate in the North West is its deputy leader, Paul Nuttall, currently its sole MEP in the region.
"I think we should get a big pat on the back because the decline of the BNP has got a lot to do with UKIP," he says at their campaign launch in a conference room at a swish central Manchester hotel.
It is a sparsely populated event, with journalists easily outnumbered by UKIP candidates and officials - in contrast to the media frenzy surrounding Nigel Farage.
But Scouser Mr Nuttall is a born performer and answers questions from journalists - including a reporter from German newspaper Die Welt - like he is addressing a rally.
Actress Louise Bours, second on UKIP's candidate list in the region, joins Mr Nuttall in playing the working-class card, claiming her party is the only one that speaks the language of ordinary people.
She also tells me she plans to shake-up the "very laddish" culture at the top of UKIP if she gets elected (she is currently working on a university dissertation on the "struggle for gender equality" in politics - what would Godfrey Bloom say?)
'Broad shoulders'
Mr Nuttall says he would be "devastated" if UKIP did not get at least three MEPs in the North West, but despite his Labour-flavoured rhetoric any gains are likely to come at the expense of the Conservatives, who topped the poll in the region in 2009, with three MEPs and 25% share of the vote.
Conservative MEP Jacqueline Foster, who leads the party's list in the North West, is contemptuous of the UKIP challenge, saying only her party can guarantee a referendum on Britain's EU membership.
Mr Nuttall and co do not frighten her, she insists. "I have got broad shoulders and skin like a crocodile."
She talks up her achievements in Brussels, where she specialises in aviation policy, but also says she would vote for Britain's exit from the EU if a referendum was held tomorrow.
Labour had one of the worst nights in its history at the 2009 European elections so seems certain to make progress on 22 May.
Shadow cabinet minster Caroline Flint is up from London to sprinkle a bit of stardust on the party's local campaign launch, posing for a "selfie" (see picture at top of this article) with apprentices at the Sharp Centre, a vast new complex for technology and media start-ups, part-funded by European money.
Lead candidate, Theresa Griffin, says voters in the North West have a more positive attitude to the EU than those in the South, because "cities like Liverpool and Manchester, towns like Blackpool and Barrow, were actually left to rot by a Thatcher government and the first investment that came in to regenerate those cities and towns actually came from the European Parliament".
Crowd-funding
Jacqueline Foster insists the picture is far more complicated than that - and says Tory Lord Heseltine led the regeneration of Liverpool in the 1980s.
One thing the two women agree on, however, is the near impossibility of canvassing for votes in an area the size of 75 Westminster constituencies. Theresa Griffin says she has covered more than 10,000 miles in the past year.
One solution would be to make greater use of social media.
But when I catch up with The Pirate Party - a tiny band of internet activists standing in the North West region only - they are stuffing leaflets through letterboxes.
Local organiser Loz Kaye says it is still an effective way to reach voters - but it is not long before the candidates are heading back to pick up their laptops from "Pirate Base" (which turns out to be Loz's flat).
The gang set up camp in a local cafe to launch their social media campaign, pinging out irreverent posters on Twitter and chatting with supporters. The Pirate Party, which campaigns for greater openness and transparency, stunned the political establishment in Sweden in 2009 by getting two MEPs elected.
Kaye tells me they have crowd-sourced their manifesto and are attempting to crowd-fund their £5,000 election deposit. Is this a glimpse of the future or just a bunch of amiable techies playing politics?
That's the thing about the European elections. You never know what's coming next...
* Here is a full list of all candidates standing in the North West European elections.