UKIP man faces suspension over Twitter comments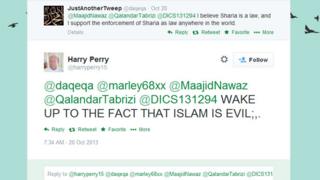 A UKIP local election candidate who tweeted "Islam is evil" and that homosexuality was an "abomination before God" faces suspension from the party.
UKIP said it had started disciplinary proceedings against Harry Perry, who is standing for election in Stockport.
A UKIP spokesman said the party did not condone or share his "crackpot" views.
The tweets came to light after Mr Perry sent private messages to a Lib Dem candidate on Facebook.
Lisa Smart, who is the Lib Dem general election candidate in Hazel Grove, received the two messages in March, before Mr Perry had been adopted as a UKIP candidate in the Labour-held Stockport Council ward of Offerton for this month's local elections.
'Divisive'
The messages, which have been seen by the BBC, talk about how the mainstream political parties want to change the UK's culture "without the permission from the white indigenous population", and add: "Don't you know, Lisa, that God hates homosexuality, you cannot be a Christian and support the gay issue."
Ms Smart told BBC News: "He came to me on my public-facing Facebook page and sent me a private message. It took me by surprise and I was disgusted to receive that message, in this day and age, from somebody who is wanting to represent the people of Offerton.
"I think the message is dangerous and divisive."
Mr Perry came fourth in the ward election in 2012, with 349 votes. He describes himself on his Twitter profile as "interested in politics and religion and what is happening to our country in respect to multiculturalism".
'Disappointed'
In response to a message from another Twitter user, in October 2013, saying: "I support the enforcement of Sharia as law anywhere in the world," Mr Perry replied: "Wake up to the fact that Islam is evil."
In another post, Mr Perry says: "God himself hates Islam."
Noel Matthews, UKIP's regional organiser for the north-west of England, said Mr Perry's alleged comments were being investigated by party chairman Steve Crowther and he was likely to be suspended.
"We don't hold these views and we don't support the crackpot statements that he has made," said Mr Matthews.
He said the party was "disappointed that a handful of our members have come out with these statements".
The rapid expansion of UKIP had meant that it had been a "victim of its own success", he added, because "some people have escaped the vetting process, such as it stands, in the various regions".
The BBC has not been able to reach Mr Perry for a response.