Hinkley Point nuclear power contract 'may be invalid'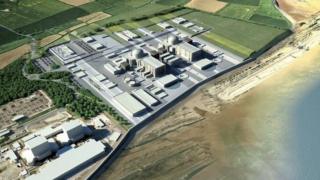 The contract for building the UK's first nuclear power station in a generation might not be "valid", a leading legal academic has warned.
Former Liberal Democrat MP David Howarth, who lectures at Cambridge, said the deal with EDF over a plant at Hinkley Point could be seen as an "unjustifiable subsidy" under EU law.
The contract fixes a price for energy provided if the scheme goes ahead.
The government said the deal was "robust" and would give a "fair deal".
The government announced last autumn that EDF, a French firm, would lead a consortium to build the Hinkley Point C station in Somerset, expected to supply around 7% of the UK's electricity.
The company and ministers agreed a "strike price" of £92.50 for every megawatt hour, almost twice the current wholesale cost of electricity.
But Mr Howarth told BBC Radio 4's Today programme there was a "problem with whether this is a valid contract at all".
He argued that, under EU law, its terms could be described as an "unjustifiable subsidy" and that "because the system doesn't allow for non-British generators to come within it, it might be a violation of the basic principle of EU law of freedom of movement of goods".
Wholesale cost of generating electricity in £/MWH
Mr Howarth added that English law could also be violated, as "the contract simply says what price it will get if it happens to supply a nuclear power station", rather than compelling the company to build one.
Setting the price paid for the energy produced could also undermine the "long-standing legal doctrine that contracts which unduly bind the future discretion of governments to act in the public interest are void as being against public policy".
"It's quite possible that a contract of this size, over a period of 40 years, might find itself being caught by it," he added.
But Tim Yeo, the Conservative MP and chairman of the Commons Energy and Climate Change Committee, said Mr Howarth, who stood down as an MP in 2010, was "mistaken".
He added: "Building a nuclear power station isn't like buying ice cream for the school lunch. It's a very long-term business and requires an investment of probably £10bn, on which probably not a penny of income will be received for at least six years.
"So there has to be a pretty strong and very long-term contract to get a private investor to do something that's never been done in Britain before. This is to have an entirely privately funded nuclear power station."
He added that EDF was a French firm and that efforts were being made to encourage a freer transfer of energy across borders within the EU.
The government estimates that energy bills will be £77 lower by 2030.
A Department of Energy and Climate Change spokesman said: "Last year's agreement of principles is robust, presents a fair deal for consumers, is in line with electricity market reform and we are confident it will meet EU tests on state aid.
"There is no final contract for Hinkley Point C yet. As we negotiate that contract, we are taking strong legal advice at every step."
He added: "The reasons to invest in home-grown energy sources like nuclear, renewables and carbon capture storage have never been clearer. We must reduce our reliance on foreign imports and protect bill-payers from shocks caused by volatile world markets, by securing long-term investment in British energy security."
Chinese companies China National Nuclear Corporation and China General Nuclear Power Corporation will be minority shareholders in the Hinkley Point project.