'Clocking in' peer Lord Hanningfield defends conduct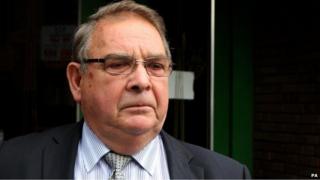 A peer accused of "clocking in" to the House of Lords for just a few minutes in order to get an attendance allowance has defended his conduct.
Speaking to the BBC, Lord Hanningfield said it did not matter whether he attended for 10 minutes or 10 hours a day as he was a peer all the time.
The ex-Conservative described a £300 daily attendance allowance paid to peers as a "de facto salary".
Earlier Lord Hanningfield had appeared before a House of Lords committee.
The Privileges and Conduct Committee was considering allegations, printed in the Daily Mirror newspaper, that he was caught collecting the attendance allowance after spending as little as 21 minutes in Parliament.
The newspaper reported peers had initially decided to order him to repay £3,300 and suspend him until the general election.
Political sources said the report was accurate.
Lord Hanningfield appeared before the committee to appeal against the decision before the final verdict was published. A committee source said the report would be issued next week.
After his appearance, he told the BBC: "You're a peer all the time. It doesn't matter if you're here for 10 minutes or 10 hours."
He added: "You get a de facto salary of 30 grand [£30,000]."
The money was needed to pay staff, he said.
Asked if the Mirror's allegations were accurate, he said the newspaper had not followed him all the time.
He dismissed as "rubbish" a recent story in the Mirror that said he had argued he had needed the money to pay a man to care for his chickens while he was in Westminster.
Lord Hanningfield said he had submitted two doctor's letters to the committee, arguing it should consider his ill health.
"I want them to let me get better," he said.
A former Essex Council leader, Lord Hanningfield was jailed for nine months in 2011 for fiddling his parliamentary expenses. Then, he was convicted of six counts of false accounting relating to nearly £14,000 of claims. He was suspended from the Lords in November 2011 and returned to Parliament in April 2012.
Those allegations were entirely separate from the ones made by the Mirror.
Lord Hanningfield lost the Conservative whip in 2010.