Back Ukraine election, UK's William Hague urges Moscow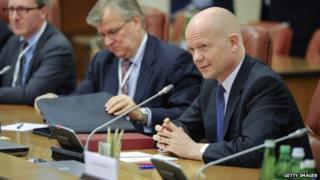 UK Foreign Secretary William Hague has urged Russia to back elections being held in Ukraine in an effort to "de-escalate" an "ominous" situation.
Moscow has ruled out fresh talks aimed at resolving the stand-off between the two countries' governments unless pro-Russian opposition groups operating in eastern Ukraine are involved.
The UK says a ceasefire is needed before the poll takes place on 25 May.
Mr Hague told the BBC Ukrainians needed Western "help and support".
The election was called after pro-Kremlin President Viktor Yanukovych was overthrown by pro-Western protesters in February.
Russia says the current government is run by extremists, lacks legitimacy and has no democratic mandate.
It has annexed Crimea, a region of southern Ukraine, following a referendum on separation among its people.
'Determination'
Violence has erupted in eastern Ukraine, which has a large Russian-speaking population, with the government using its forces to try to regain control of cities taken over by pro-Moscow rebels. And French President Francois Hollande has warned of possible "civil war" if the election does not take place.
Mr Hague, who is visiting the Ukrainian capital, Kiev, echoed those sentiments, telling BBC Radio 4's Today programme: "[The situation] is ominous and I would never disguise or minimise that in any way.
"It's the most serious crisis in Europe, at least since the Balkan wars, and perhaps since the Cold War."
He added: "There's a great determination among Ukrainians to make a success of their elections.
"That's something they should get help and support with and they appreciate the international support they are receiving."
Mr Hague said it was "very, very clear" that Russia was responsible for the situation and that the government running Ukraine since February's uprising was not made up of "extremists", adding: "They are not from some right-wing fascist sector at all.
"They are in favour of an open economy and a democratic society. They are liberal politicians, translated into the European context. It's a false depiction of them to say some extremists have taken power."
He said: "People with links to Russia support elections being held and don't want more parts of Ukraine to be annexed by Russia."
In recent weeks the US and the European Union have stepped up sanctions against Russia, naming more individuals and companies facing travel bans and asset freezes.
Mr Hague warned of further developments, saying: "It's moving forward and that should worry the Russians in the long term."
Western European countries were trying to reduce their dependency on Russian gas, he added.
Mr Hague said the people of Ukraine "deserve to make their democratic choice, just as we make democratic choices in Britain", adding that European countries "want them to reach an accommodation with Russia".
'Not conventional'
He said: "That means a willingness to reach an accommodation on the other side.
"In the absence of that, we have to support Ukrainians making their democratic choice."
Ukraine was ready to back a new round of talks in Geneva, acting Foreign Minister Andriy Deshchytsia said, as long as Moscow supported presidential elections.
He later appealed for international observers to be sent to Ukraine to monitor the May election.
The Organisation for Security and Co-operation in Europe, representing 57 states including the UK and US, has called for a ceasefire in Ukraine ahead of the poll.
But Russian Foreign Minister Sergey Lavrov said: "Scheduling an election during a time when the [Ukrainian] army is being used against a part of the population is not conventional - it's not Afghanistan."
Kiev has rejected the pro-Russian activists' demands for greater autonomy for eastern regions, fearing they could lead to the break-up of the country or more regions being annexed.
Separatists in Donetsk, in eastern Ukraine, have proclaimed a "People's Republic" and are preparing to hold an independence referendum on Sunday.