Nigeria abductions: UK experts to provide advice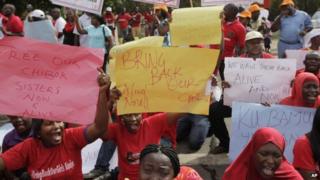 The UK is to send a small team of experts to Nigeria to help over the abduction of more than 200 schoolgirls.
The girls were kidnapped more than three weeks ago from their boarding school in the north-eastern state of Borno by Islamist Boko Haram militants.
Prime Minister David Cameron, who spoke to Nigeria's president on Wednesday, has condemned the act as "pure evil".
Mr Cameron said the whole world had been appalled by what had happened and the UK "stood ready" to help as needed.
The BBC's chief political correspondent Norman Smith said he understood the experts would provide planning and advice on co-ordination to the Nigerian authorities.
They were not expected to be involved directly in the search through the jungle for the missing schoolgirls, he added.
Military training
No 10 said they would be on the ground within days, although final details on the number and composition of the team are still being drawn up in consultation with the US and Nigerian authorities.
"The prime minister reiterated the UK's offer of assistance to the Nigerian authorities," a Downing Street spokesman said.
"President Jonathan accepted the prime minister's offer to send a small team of experts drawn from across Whitehall departments to complement the US team committed by President Obama."
The personnel are expected to come from the Ministry of Defence, the Foreign Office and the Department for International Development among others.
The UK, one of the largest foreign donors to Nigeria, already has a small military training team and counter-terrorism experts stationed there.
Speaking in Parliament on Wednesday, the prime minister said the threat from Islamic extremists "opposed to education, progress and equality" was global and they needed to be confronted "wherever they are".
"This is an act of pure evil," he told MPs. "It has united people across the planet to stand with Nigeria to help find these children and return them to their parents."
Earlier this week, Boko Haram's leader admitted his fighters had abducted the girls from their school in the town of Chibok on 14 April.
Abubakar Shekau threatened to "sell" the students, saying they should not have been in school in the first place, but should instead get married.
The group, whose name means "Western education is forbidden" in the local Hausa language, began its insurgency in 2009.
The Nigerian police have offered a $300,000 (£176,000) reward for information leading to the rescue of the girls.