Greens call for affordable housing boost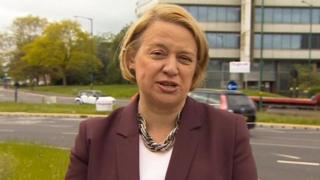 The Greens have promised to push for more building of affordable housing ahead of local elections in England.
Launching the party's campaign, leader Natalie Bennett said there had to be more use of brownfield sites by councils looking to end shortages.
She told the BBC the Greens were seeing "big growth" in support and were hoping to make progress in such places as London, Liverpool and Oxford.
They expected to gain councillors "up and down the country", she said.
Local votes take place on 22 May, the same day as European elections.
'Going forward'
The Green Party of England and Wales has more than 140 councillors, two Members of the European Parliament and one MP - their former leader, Caroline Lucas.
Speaking at the party's campaign launch in Solihull, in the West Midlands, Ms Bennett said: "What we're seeing in many places is that people are turning to the Greens.
"We are expecting to win new councillors up and down the country, in London, Liverpool, Oxford and many other towns and cities.
"We are seeing big growth in Green Party membership and we're going forward from a very solid base of support and policies."
Ms Bennett said the Greens, best known for campaigning on environmental issues, were a force for "real change in our society for the common good".
They are calling for the conversion of disused buildings such as office blocks into affordable housing.
Minority administration
Standing in front of one such site in Solihull, Ms Bennett said: "We are simply not building the homes we need."
The party is aiming to become the official opposition to the Conservatives in Solihull.
It has run Brighton and Hove since 2011 as a minority administration, its first breakthrough at this level.
The Greens have faced criticism there over a strike by bin men and failed to get agreement from other councillors in the city to hold a referendum on raising council tax to help pay for social care.
But Ms Bennett, a former journalist, said: "If you look at the record of Brighton and Hove Council as a minority administration, it has a very long list of achievements, from making the council a living-wage council to keeping all of the branch libraries open, which is something that's not happening in many parts of the country.
"We are greatly improving the city's GCSE results. We've got a very proud record of achievement in Brighton and we're really making a difference."