Parties see council candidate boost in local elections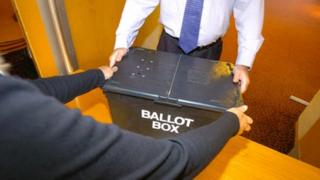 An extra 1,000 candidates are standing in this year's local elections in England compared with 2010 when the seats were last fought, figures from the Press Association show.
Altogether 16,863 would-be councillors have thrown their hats in the ring, up from 15,782 four years ago.
UKIP has seen the biggest boost to its candidate numbers, fielding nearly four times as many as it did in 2010.
Voters in England and Northern Ireland will go to the polls on 22 May.
Labour and the Conservatives are fielding the most candidates, with just over 4,000 each.
The Liberal Democrats have 2,907 candidates, about 500 fewer than in 2010, although the general election that year may have increased candidate numbers.
UKIP has 2,155 candidates, a massive increase on the 608 it fielded in 2010.
The Greens have also seen an increase, with 1,854 standing for the party this year against 1,590 in 2010.
Across England and Northern Ireland 4,279 seats are up for election, compared with 4,252 in 2010.
The polls cover 161 councils comprising 19 unitary authorities, 36 metropolitan authorities, 32 London boroughs and 74 non-metropolitan districts.
Although Labour failed to win the general election in 2010, the party did well in the local elections on the same day, gaining more than 400 council seats.
But the Conservatives and the Liberal Democrats lost more than 100 each.
This month's council polls coincide with the European elections in 12 UK regions electing 73 MEPs, as well as five mayoral contests in Hackney, Lewisham, Newham, Tower Hamlets and Watford.