Lord Hanningfield set to be suspended over expenses breach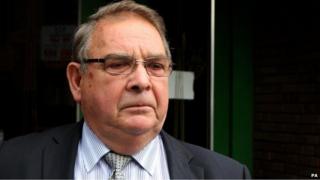 Lord Hanningfield faces being suspended from Parliament for more than a year for "failing to act on his personal honour" over expenses claims.
The standards watchdog found the peer had breached the code of conduct on allowances and recommended he be barred from Parliament until May 2015.
The ex-Conservative had claimed the daily £300 allowance for attending the Lords 11 times last year, without "undertaking any parliamentary work".
It also said he should repay £3,300.
A suspension of more than a year is the maximum penalty that can be imposed on a member of the Lords. Peers will decide whether to enforce the recommended penalty on Tuesday.
In response, Lord Hanningfield said his expenses claims had been "thoughtless" but he had never tried to deceive people and suggested he had been "reprimanded on a technicality".
"I regret that my mistakes have ultimately resulted in me being suspended from the House," he said.
'Clocking on'
Lord Hanningfield, a former head of Essex County Council, was convicted of expenses fraud in 2011 - and was given a nine-month jail sentence. He was expelled from the Conservative Party as a result.
The parliamentary commissioner for standards investigated the peer after reports in the Mirror alleging Lord Hanningfield had "clocked on" during July 2013 to claim the daily allowance paid to peers.
Peers are not paid a salary but can claim a maximum daily allowance of £300 if they attend a sitting or undertake "appropriate parliamentary work" in Westminster. The following activities qualify:
Attending and participating in debates in the Lords
Voting in the Lords
Attending select and grand committee meetings
Attending the Lords to swear an oath of allegiance
If they undertake "mandated business" outside of Westminster, such as being a member of a committee or delegation on an overseas trip, peers are entitled to a reduced allowance of £150.
The Mirror said the peer had travelled to London from his Essex home specifically to claim the full allowance, returning home shortly afterwards, having spent little time in Parliament.
In its report, the watchdog found that on the 11 days in question which it investigated, Lord Hanningfield had been on the parliamentary estate for less than 40 minutes.
'Specific work'
While there was no threshold for the amount of time a peer should spend in Parliament to justify getting the allowance, it found Lord Hanningfield had breached the code of conduct governing peers' work.
Written undertakings
The cross-party Lords Privileges Committee, which decides on sanctions against peers, said "in making incorrect claims the commissioner found Lord Hanningfield failed to act on his personal honour".
"Lord Hanningfield was unable to point to any specific work that he had undertaken on the 11 days covered by the Commissioner's investigation," it added.
"In our view it is clear that the daily allowance should be claimed only on days when parliamentary work has been undertaken."
Lord Hanningfield said he had been preparing for a debate on the railways and said his psychological and physical health stemming from his expenses conviction prevented him from spending more time on the parliamentary estate over the period in question.
But the committee said there was "no evidence" he had been working on the debate on the days in question and, at the very least, he should have claimed the reduced £150 allowance.
In future, it says peers should give a written undertaking when they claim allowances that they are "acting on their personal honour" in doing so.
Lord Hanningfield has claimed that half the members of the Lords clocked in and out of Parliament for a few minutes a day to claim the full £300 allowance.
'De facto salary'
Speaking after the ruling, he said "like many other Lords, I believe the allowance to be a 'de facto' salary".
"The House of Lords does not offer any form of 'sick pay' and while I realise that my efforts to return to the House proved to be counter-productive, I rely on the aforementioned allowance in order to pay the various people whom I employ," he said.
"It appears that I am now going to be reprimanded, on a technicality, as I could not provide 'substantial' evidence of the work that must be carried out on the days in question, in order to justify the claim."
The BBC's political correspondent Ross Hawkins said there was no mechanism for peers breaking expenses rules to be permanently thrown out of Parliament and the peer would be able to return to work next year.
The Lords Privileges Committee said it was recommending a tightening of the rules to make it possible to expel peers given a jail sentence of less than a year.
Parliament is currently considering a private member's bill by Tory MP Dan Byles, which would see all peers imprisoned for more than a year automatically expelled.