Greens seek inquiry after police visit fact-checker of UKIP policies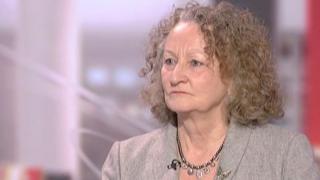 The Green Party wants an investigation after a blogger was visited by police about his posts about UKIP policies.
Michael Abberton, a Green Party member, said two police officers visited him at home after receiving a complaint.
He was concerned that anyone would try to "silence dissent and debate in such a manner", he wrote on his blog.
Police said they had found no evidence of any offences having taken place in him reposting an ironic list of "10 great reasons to vote UKIP" on Twitter.
Mr Abberton said he had been trying to establish whether the policies on the list, circulating on Twitter, were genuine.
In the version he posted he included the website addresses of what appeared to him to be the sources of the claims.
For example, one claim - that UKIP wanted to raise income tax for the "poorest 88% of Britons" - was attributed to UKIP Birmingham spokesman Keith Rowe's website. Another, that the party would abandon "all action on climate change", was attributed to the UKIP Worcester website.
'Disturbed'
But next to other claims, for example that the party was planning to cancel "all planned house building" and scrap regulations aiming to make banking safer, he wrote in bold: "No source found."
On his Axe of Reason blog, Mr Abberton said he had been "disturbed by a police officer peering through my lounge window" four days after posting the revised list.
At the door, the officer and a colleague had said "there was nothing to be worried about" but nonetheless asked to "come in for a chat", he reported.
He said they had advised him to delete some of posts he had published on Twitter which included the list of 10 policies.
He wrote: "They asked me to 'take it down' but I said I couldn't do that as it had already been retweeted and appropriated, copied, many times and I no longer had any control of it.
"I'd like to be absolutely clear - the police officers were extremely professional and polite and I couldn't fault their behaviour in any way.
"But it wasn't until after they left that I questioned why they had visited me in the first place."
'Further inquiries'
Cambridgeshire Police confirmed they had made the visit but denied telling Mr Abberton to delete any tweets.
A spokesman said: "We were called with a complaint about a message on social media at about 12:40 on Friday.
"Inquiries were made as to whether any offences had been committed under the Representation of the People Act but none were revealed and no further action was taken."
The Electoral Commission's summary of offences under the Representation of the People Act says:
It is an illegal practice to make or publish a false statement of fact about the personal character or conduct of a candidate in order to affect the return of a candidate at an election;
Election campaign publicity material must contain an imprint, not resemble a poll card and not contain a false statement as to the personal character or conduct of another candidate.
Green Party leader Natalie Bennett said: "This police action is both disturbing and surprising.
"That an apparently general complaint from a political party about not liking what was said about them could have led to a police visit that many would find intimidating is an extremely serious incident that demands immediate investigation. Free speech is a precious right that we must defend."
She added that Green Party member of the House of Lords Baroness Jones would write to Home Secretary Theresa May calling for the matter to be investigated.
It is not clear who made the complaint to the police. UKIP has yet to comment to the BBC. The New Statesman reports that the chairman of UKIP's Cambridge branch, Peter Burkinshaw, said he had not known anything about the incident.
"I wouldn't have thought it was criminal to tweet your opinion about something if it's not slanderous. I don't understand why the police would go round," the magazine quotes him as saying.
The MP for Cambridge, Lib Dem Julian Huppert, said the force had told him it was making "further inquiries" to try to establish what had happened.
"If the police were told that a criminal offence was occurring it would be interesting to know what that offence might be," he told the BBC.
"The police have a very important role in protecting the law. If these tweets were threatening or abusive there is a role for police officers.
"But fact-checking UKIP policy hardly strikes me as a massive violation of the electoral process."