Civil servants 'too keen to please' ministers in 2010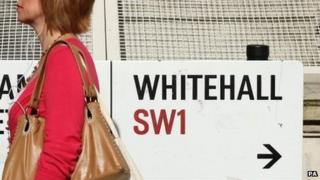 Civil servants were "too keen to please" ministers from the coalition government when they took office in 2010, it has been claimed.
Peter Riddell, a leading constitutional expert, said mandarins had perhaps not "challenged" ministers enough on the "best way" to get policies implemented.
This was "for obvious human reasons", he told MPs, since advisers wanted to "get the trust" of new ministers.
It happened when new governments were elected in 1979 and 1997, he added.
Mr Riddell, the head of the Institute for Government, was giving evidence to the Commons Public Administration Select Committee about the impartiality of the civil service.
He told MPs that civil servants had to serve ministers at all times, including in the run-up to referendums and national elections, and should not "hold their nose" at doing "anything political" during those periods.
'Going native'
"Ministers are entitled to pursue their policies and civil servants are expected to pursue and advise ministers in implementing their policies," he said.
Mr Riddell downplayed suggestions that civil servants had become increasingly politicised, saying they were "committed to serving the government of the day".
While there was a "bias towards activism" in Whitehall, he said this was no indication of growing political partiality.
He cited the late Lady Thatcher as evidence that prime ministers were happy to work with "go-ahead" civil servants irrespective of their personal views or sympathies.
Asked about current relations between ministers and civil servants, Mr Riddell said they were "strained" in some departments but long-standing conventions were still being abided by.
Some current ministers were "too impatient" to get things done, he believed, and "under-appreciative" of what had changed since 2010, adding that "things do not happen that quickly".
Suggestions that civil servants "go native" after a long period working for a government and find it hard to adjust to a new administration and its different priorities were "completely wrong", he believed.
By contrast, he suggested, civil servants were perhaps too eager to serve new prime ministers with fresh mandates, such as David Cameron in 2010, Margaret Thatcher in 1979 and Tony Blair in 1997.
"The civil service was too keen to please, for understandable human reasons... civil servants were not perhaps being challenging enough because they wanted to gain the trust of ministers."
Iraq delays
Separately, Mr Riddell said it was "utterly wrong" to suggest that the most senior civil servant in No 10, Sir Jeremy Heywood, was "blocking" the publication of the Iraq Inquiry report.
He was responding to a question from Labour MP Paul Flynn who suggested Sir Jeremy, who was principal private secretary to Tony Blair in the run-up to the 2003 invasion, may be behind delays in its publication.
Unconfirmed reports last month claimed David Cameron was losing patience with the inquiry, which began its work in 2009, and wanted it to complete its work by the end of the year.
Mr Flynn suggested the prime minister had "confessed his own impotence" in hurrying up the process and challenged Mr Riddell to come up with another scenario to explain why it was taking so long.
While Sir Jeremy may be acting as a "broker" in the process, Mr Riddell said he believed everyone in Whitehall, including the cabinet secretary, wanted to see the report accelerated.
The delays, he added, were likely to have been caused by discussions over the publication of secret correspondence between Tony Blair and George W Bush and the length of time it was taking to contact those criticised in the report to give them the opportunity to respond.