Newark by-election candidate names confirmed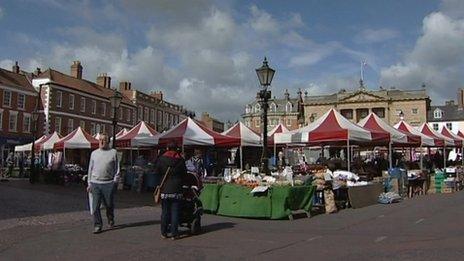 The full list of confirmed candidates for the 5 June Newark parliamentary by-election has been released by Newark and Sherwood District Council.
Robert Jenrick is to represent the Conservatives, Michael Payne Labour, David Watts the Lib Dems, and Roger Helmer the UK Independence Party.
In April, UKIP leader Nigel Farage ended speculation that he might stand.
The by-election was triggered by former Conservative MP Patrick Mercer's resignation over a lobbying scandal.
The full list of candidates, in alphabetical order by surname, is:
Baggaley, Paul Stephen - Independent
Bishop, David Laurence - Bus-Pass Elvis Party
Brick, Nick The Flying - The Official Monster Raving Loony Party
Hayes, Andy - Independent
Helmer, Roger - UK Independence Party (UKIP)
Jenrick, Robert Edward - The Conservative Party
Kirwan, David Charles - Green Party
Payne, Michael - Labour Party
Rodgers, Dick - Stop Commercial Banks Owning Britain's Money
Watts, David Kenneth - Liberal Democrat
Woods, Lee - Patriotic Socialist Party