Doors still open to Russia, says William Hague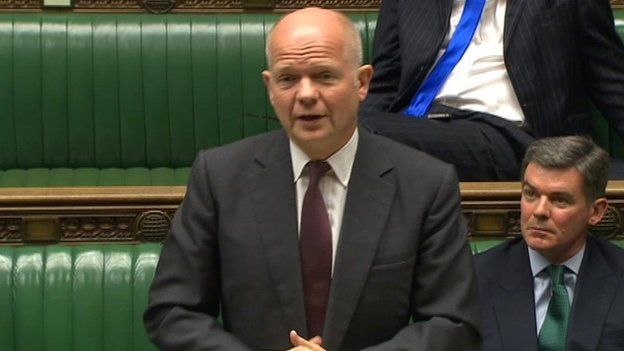 The UK's foreign secretary has insisted the "doors to diplomacy" remain open to Russia, even as the situation in Ukraine continues to deteriorate.
Scores of people have died in fighting in eastern Ukraine in recent weeks, with William Hague saying that pro-Russian forces had "every appearance" of being sent by Moscow.
He told the Commons that discussions with Russia were continuing.
Ukraine will hold presidential elections on 25 May.
On Monday, pro-Russia activists in the east of the country declared a separate state with a view to joining Russia, after holding votes on self-rule on Sunday.
Kiev, the US and European Union have declared that the referendums in Donetsk and Luhansk were illegal.
Nato believes some 40,000 Russian troops are deployed near Ukraine's border, although Moscow says they have been pulled back.
Addressing MPs, Mr Hague, who visited Ukraine last week, outlined the financial and practical support the UK is offering to hold the elections.
But he said: "In two of Ukraine's 25 regions, namely Donetsk and Luhansk in the south and east of the country, the situation has deteriorated markedly over the last two weeks.
"A constant barrage of propaganda by the Russian media and a steadily mounting death toll are contributing to an atmosphere of fear, uncertainty and division.
"So-called pro-Russian separatists led by people who by their training, equipment and behaviour give every appearance of sometimes being Russian special forces, have continued to seize and occupy government buildings in the south and east of Ukraine, using many of the same tactics that were deployed in Crimea."
Mr Hague said journalists had been intimidated, while four Ukrainian military helicopters had been destroyed by missiles.
However, he added: "As I have always stressed, the doors to diplomacy remain open. We continue to discuss the situation with Russia, and the prime minister had a long conversation with President Putin on 1 May."
Russia says the current Ukrainian government - formed after an uprising earlier this year - is run by extremists, lacks legitimacy and has no democratic mandate.
But it denies sending special troops into the country.
It has annexed Crimea, a region of southern Ukraine, following a referendum on separation among its people.