What might Euro elections mean for Scotland's referendum?
Emily Maitlis
Political editor, BBC Newsnight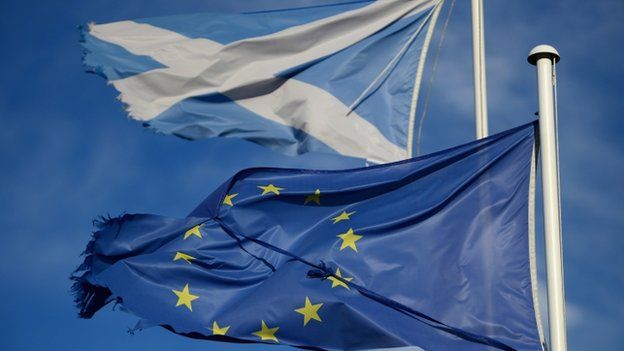 "When it happens," one Labour MP tells me, "you lot will all be looking in the wrong direction."
We are discussing Labour's fortunes in the light of the new polls that show the Conservatives overtaking for the first time in two years.
The "pointy heads", he tells me, are driven into thinking UKIP winning is a good thing for Labour, but they haven't got a clue.
He believes that if UKIP's tide goes out, say after the European Parliament elections, the votes they have taken from the Tories will return to the Tories.
But the votes they have taken from Labour may stay with UKIP.
What he really worries about though is what would happen if Labour came third in the Europeans. It seems inconceivable, but nerves have been jangling in the last 24 hours.
"If Labour comes third," he tells me, "it will have a phenomenal effect in Scotland. People will be asking if we have a future in Britain."
His point is an interesting one. Look at who is driving the Unionist cause in Scotland right now. The bedrock of the No campaign is the Labour voter, as the Tories and Lib Dems are in short supply there.
If Labour tanks in the European Parliament elections, we may well expect the Labour share of the vote to drop north of the border.
If Farage comes first, then all eyes will turn to Edinburgh. It could well be a significant blow to the No campaign.
So when the Sunday night Euro election scoreboard comes round, have a good long look.
If England is being won by UKIP and Scotland is being won by the SNP, then there is no more fertile breeding ground for a Nationalist Yes to Scottish independence.
It's something much of Westminster may not have woken up to yet.