'Red' warning over Clegg's free school meals plan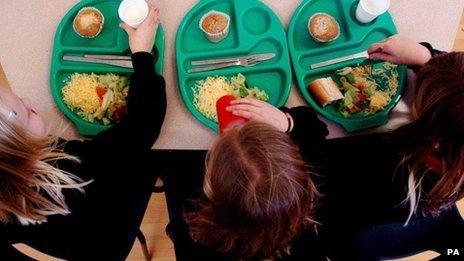 Nick Clegg's plan for free school meals for infant school pupils in England has been given a "red" rating in a Whitehall risk assessment.
The move means there is serious concern about whether its implementation is going to be successful.
The Deputy PM has not disputed the story, reported by BBC Radio 4's World at One, but insisted the policy would be implemented on time.
It comes amid a row over schools policy between the Tories and Lib Dems.
From September, all Reception, Year 1 and Year 2 children in state-funded schools in England will be entitled to free school meals under the scheme announced by Mr Clegg last autumn.
The assessment of the policy's viability was made by the Department for Education's performance committee.
In response, Mr Clegg said it was "quite normal" in Whitehall for officials to constantly review the state of readiness of a policy.
"But let's be really clear, it is mid-May, this is going to happen in September," he added.
"It will happen in September, it is fully funded, we have even gone further than that, we have legislated for it to make sure it is really there to stay."
The policy would be a "real crowning achievement of this government", he suggested.
"Already the vast majority of schools across the school system are telling us that they are ready to do it," he added, while acknowledging some schools would need "particular help".
A Department for Education spokesman said they would not discuss the leak.
But he said: "The overwhelming majority of schools are already on track to deliver this policy in September and we are confident the policy will be delivered on time and on budget.
"Universal free school meals have already been shown to work in the pilot schemes run by the Department for Education and Department of Health in 2009.
"Indeed, schools have had longer to prepare for the introduction of universal free school meals this September than schools in those pilot areas had in 2009."