Camera crews allowed into Prime Minister's Questions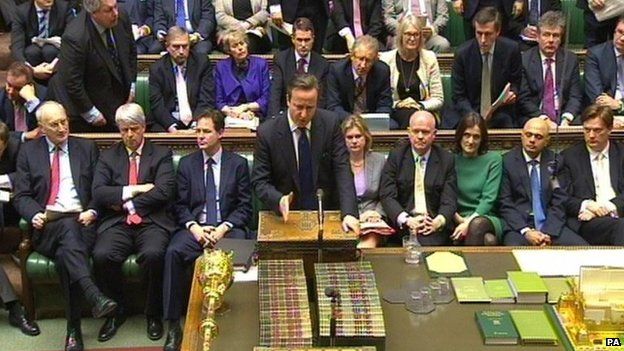 A camera crew will be allowed into the Commons for the first time later to cover Prime Minister's Questions.
The weekly arguments between David Cameron and Labour's Ed Miliband are normally covered by remote-controlled cameras fixed above the MPs.
But Speaker John Bercow has permitted the innovation for a BBC series, with a view to capturing eye-level shots.
A spokeswoman said the request by veteran documentary maker Michael Cockerell had been "reasonable".
Proceedings in the chamber have been filmed since 1989 and Prime Minister's Questions, which takes place from midday on Wednesdays, is regarded as the highlight.
Plans have even been mooted to move the sessions to a mid-evening, peak-time TV slot to increase audiences, but these have so far been refused.
Mr Bercow has allowed two members of a film crew working on the series Inside the Commons to get closer to MPs.
His spokeswoman said: "The established fixed filming in the House of Commons was not sufficient for the documentary makers, so they requested permission from the Speaker.
"Events in the House are a matter of public record. MPs are not unused to being filmed and PMQs have been broadcast live since 1990, so it seemed quite reasonable to grant this request."
But Conservative MP Brian Binley has complained that the Commons will be "cheapened" and treated like "some sort of political Big Brother-style show".
In recent months Mr Bercow has accused MPs of behaving more like contestants on The Jeremy Kyle Show, castigating them for shouting and gesticulating at one another.
It remains to be seen whether the presence of Mr Cockerell and his crew moderates their conduct.
The BBC News website offers full text and video coverage of PMQs, which can also be seen on BBC Democracy Live, the BBC Parliament Channel and BBC Two's Daily Politics, and heard on BBC 5 live.
Inside the Commons, a four-part show, will be aired early next year.