Labour guru's Miliband tweet blunder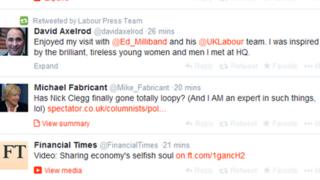 Labour's new election campaign adviser has misspelled Ed Miliband's name in a tweet praising the party - which then linked to a spoof Twitter account.
David Axelrod, an ex-adviser to Barack Obama wrote: "Enjoyed my visit with @Ed_Milliband and his @UKLabour team."
Mr Miliband downplayed the error as part of the "perils of tweeting".
He also praised Mr Axelrod, saying the two shared a mission to tackle the "disconnect" between growth in the economy and rising living standards.
Mr Axelrod has since corrected the tweet but the Conservatives leapt on the error, querying whether Mr Axelrod "had actually met" the Labour leader.
Mr Axelrod has been visiting London for the first time since being hired by Labour earlier this year to provide advice on strategic direction on a reported six-figure salary.
On Thursday, he met the shadow cabinet and other senior Labour Party figures.
'Inspired'
In his tweet, Mr Axelrod said he had been "inspired by the brilliant, tireless young women and men" he had met at Labour's headquarters.
But, as well as misspelling Mr Miliband's name, he also linked to a spoof account in the Labour leader's name whose tweets include: "I am resigning".
Asked about the matter on BBC Radio 4's World at One programme, Mr Miliband said he had been "a victim of bad tweeting myself and that is the kind of thing that happens".
In 2012 Mr Miliband mistakenly referred to "blackbusters" in a tweet after the death of Bob Holness, the host of the long-running ITV panel game Blockbusters.
Mr Axelrod was Mr Obama's campaign adviser during his successful run for the presidency in 2008 and senior strategist for the president's re-election campaign in 2012.
Labour has retained the services of Mr Axelrod's political consultancy AKPD, which employs other veterans from the Obama campaign, including Larry Grisolano and Mike Donilon.
The Labour leader said Mr Axelrod's involvement did not mean an increased emphasis on negative campaigning - a familiar feature of US elections and something Labour have been accused of in the past week after running a party election broadcast mocking Nick Clegg as the "un-credible shrinking man"..
Mr Miliband said he and Mr Axelrod shared a concern about growing inequality in developed countries and whether people's hard work would be rewarded by an improvement in their living standards.
'Big mission'
Despite the revival of the British economy, with growth of more than 3% forecast this year, Labour say most people will still be worse off in 2015 than they were in 2010.
"I first started talking to him (David Axelrod) last August and September and what attracted me about him was his values," Mr Miliband told the World at One.
He said his "big mission in politics" was to make sure people who worked hard to build a good life for their families got a fair deal.
The Conservatives have also recruited another former adviser to Barack Obama, his ex-campaign manager Jim Messina, to work on their 2015 election team.
As with Mr Axelrod, Mr Messina is not leading the campaign on the ground but remains in the US, reporting to the Conservatives' senior management team.
Speaking to the BBC, Mr Miliband said the 2015 election could be the "most unpredictable" in a generation with many people yet to have made up their mind.