Nick Clegg vows to 'carry on' as Lib Dem leader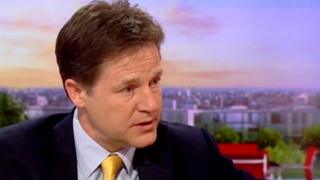 Nick Clegg has pledged to "carry on" as Lib Dem leader whatever happens in Thursday's local and EU elections.
In an interview on BBC Breakfast, he acknowledged that there had been a "short-term political cost" to entering coalition with the Conservatives.
But he said the move had enabled the party to enact a number of "signature tune" Lib Dem policies, such as tax cuts for low earners.
Mr Clegg vowed to defend his record at the 2015 general election.
Some polls have suggested that the Lib Dems could lose all 12 of its MEPs in the elections, and the deputy PM was asked on BBC Breakfast where a "complete wipe-out" would leave him.
There are elections across the UK to the European Parliament on Thursday and elections to 161 councils in England and 11 in Northern Ireland. Voting takes place from 07:00 BST to 22:00 BST.
Results for the local elections will come on Friday. Results for the European elections will be announced late on Sunday. You can follow full coverage with all the latest updates at http://www.bbc.co.uk/news/events/vote2014
He said: "I'm going to carry on as leader, because we have a major set of elections next year: the general election, where people will be able to make the final judgement on all the political parties, including mine.
"Far from being defensive about it, I'm hugely proud of the fact that my party stood up to the plate, had the courage to do so, to create the stability without which there wouldn't be an economic recovery now.
"We have delivered a whole range of signatures tune policies that have benefited millions of people: massive tax cuts to millions of basic-rate taxpayers, by raising the point at which you pay income tax; the largest expansion of apprenticeships in a generation; the highest cash increase in the state pension ever, because of the Liberal Democrats; more money to schools catering for kids from disadvantaged backgrounds.
"Those are really important things and, sure, it has come at some short-term political cost... we are securing the recovery, but securing it fairly, and that is something that I hope many people will support us on."
He also criticised UKIP's "dogmatic vision" of the merits of EU withdrawal, which he said would cost British jobs were it to be realised.
"I just don't go along with the Nigel Farage belief that everything that his a problem under the sun can be solved by leaving the EU," Mr Clegg said.
The EU was the "world's largest economy", and co-operation within the bloc helped to tackle cross-border crime and fight climate change, he added.
The Lib Dem leader also attacked Labour's "silence" and the Conservatives' "dithering" on the question of EU membership.
Meanwhile, Mr Farage has told BBC Radio 4's Today programme that his party was winning "big chunks" of support from Labour, and not just from the Conservatives.
UKIP "may hold the balance of power" at the 2015 general election, he predicted.