Voting draws to a close in local and European elections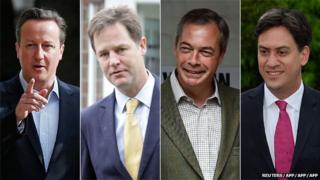 Polling stations across the UK are due to close after millions cast their votes in European and, in England and Northern Ireland, local elections.
It is the final big test of public opinion before 2015's general election.
All 73 UK seats in the European Parliament - the EU's only directly elected body - are up for grabs, along with 4,216 seats on local councils, nearly half of them in London.
Polling stations opened at 07:00 and will close at 22:00 BST.
There are elections across the UK to the European Parliament on Thursday and elections to 161 councils in England and 11 in Northern Ireland.
Results for the local elections will come on Friday. Results for the European elections will be announced late on Sunday. You can follow full coverage with all the latest updates at bbc.co.uk/vote2014. There is a TV election special tonight on BBC One from 23:35 BST and a special on BBC Radio 4 and 5live from midnight.
The last European elections took place in 2009. Voting will take place in the EU's other 27 member states over the next four days, with 751 MEPs in total being chosen. Thursday also sees voting take place in the Netherlands.
In England, a third of seats are being contested on dozens of district and unitary authorities and in the 36 metropolitan boroughs, including Tyne and Wear, Greater Manchester, South and West Yorkshire, Merseyside and the West Midlands.
In London, every seat on all 32 London boroughs is up for election - the first time this has happened since the day of the 2010 general election.
Voters will also choose mayors in Hackney, Lewisham, Newham, Tower Hamlets and Watford.
In Northern Ireland, voters will elect 462 representatives to 11 so-called "super districts" following a reorganisation that took place in 2012, reducing the number of councils from 26 previously.
There are no local elections in either Scotland or Wales - apart from a by-election in the Hawick and Denholm ward of Scottish Borders Council.
The weather forecast suggests that some people could have a very wet trip to the polling booths, with a Met Office weather warning covering Wales and southern England for heavy rain and possible localised flooding in areas hit by slow moving thundery downpours.