Lib Dem candidates call on Clegg to step down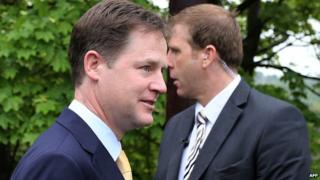 Two Lib Dem parliamentary candidates in key swing seats have called on party leader Nick Clegg to step down.
Jackie Porter, would-be MP for Winchester, said that after another poor local election showing, it was time to act in the party's best interests.
West Dorset candidate Ros Kayes said the public had lost trust in Mr Clegg.
But a party spokesman said its message should not be "distorted by needless infighting".
Both Winchester and West Dorset are currently held by the Conservatives but are seen as winnable.
'Lovely bloke'
Ms Porter - a Lib Dem county councillor - said the party's leader had "allowed himself to be portrayed as just another pea out of the same pod" as David Cameron and Ed Miliband.
Speaking to the BBC she added: "We have to make decisions to save the party not the person."
She has signed an open later to Mr Clegg calling on him to stand down so a new leader can be chosen in the summer.
Ms Kayes, another of around 200 party figures to put their name to the letter, told BBC Radio 5 live: "If you were to ask the general public what it is they don't like, they wouldn't say they don't like the coalition; they would say they don't like Nick Clegg.
"As an individual he's a lovely bloke, I just don't think he's the right person to carry on leading the party."
Mr Clegg said he would "absolutely not" be quitting after his party suffered another bad night at the polls in Thursday's English local elections.
The Lib Dems lost more than 300 councillors and in the wards last contested before the coalition was formed in 2010, it was 14% down.
'Carnage inevitable'
Until now, despite suffering loss after loss, the party's MPs have been remarkably disciplined.
But in the wake of Thursday's results, one has given the gravest warning yet about Mr Clegg's future.
John Pugh told the BBC he had canvassed more than a dozen backbenchers.
"The high command is in danger of seeming like generals at the Somme - repeatedly sending others over the top while being safely ensconced in Westminster and claiming the carnage is all somehow sadly inevitable," he said.
The time had passed, he added, for a policy of "misguided stoicism".
Although falling short of demanding his leader stand down, Mr Pugh said MPs would now "review" the election performance, putting the "wider party and country first".
"Our good results are mostly the product of local popularity," he said.
"The abysmal loss of well over half our seats last Thursday though is mostly due to national unpopularity."
Another MP - backbencher John Hemming - said: "I'm not an enthusiastic fan of Nick's leadership, but whether any action is needed at this stage is an issue I will come to when I return to Parliament."
Mr Clegg could face a leadership contest if a majority of Lib Dems at Westminster approve a no confidence motion or 75 local associations formally demand one.
'Always disappointing'
A Lib Dem spokesman said it was right to take the concerns about the campaign seriously.
But he added: "We always knew these elections would be tough and it is always disappointing when valued, hard working and dedicated councillors lose their seats."
Senior party figures were "proud" of the party's campaign, he said.
"Nick Clegg stood up for our core values, made the positive case for Britain's place in Europe, and took on Nigel Farage's divisive politics.
"Now is a time to get our message across, and shout what we're doing in government, and not get distorted by needless infighting."
Chief Secretary to the Treasury Danny Alexander urged his party to "work harder to sell the recovery as a Liberal Democrat achievement".
"People need to get on with that rather than muttering," he told the Sunday Times.