Lady Mary Soames, Winston Churchill's daughter, dies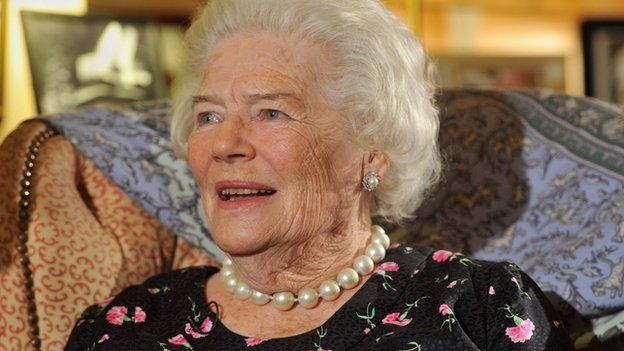 Lady Mary Soames, Winston Churchill's last surviving child, has died at the age of 91, her family have announced.
She died on Saturday at her home after a short illness.
She was the youngest of the five children of the wartime prime minister and his wife Clementine.
Prime Minister David Cameron described her as "a wonderful, warm-hearted woman who could always put others at ease" and said he and his wife Samantha "felt privileged to know her".
One of her sons, the Conservative MP and former minister Nicholas Soames, said: "She was a truly remarkable and extraordinary woman, who led a very distinguished life."
Born Mary Spencer-Churchill, she served in the auxiliary territorial service during World War Two, manning anti-aircraft batteries in London, Belgium and Germany.
She accompanied her father on several of his most important trips, including to the 1945 Potsdam Conference, where Churchill, Stalin and US President Harry Truman discussed the future of post-war Germany and Europe.
She enjoyed a lifetime of public service and through both birth and marriage, had life-long association with the Conservative Party.
Her late husband, Christopher Soames, was a prominent Conservative politician who served as a minister under Anthony Eden, Harold Macmillan, Alec Douglas-Home and Margaret Thatcher.
He also served as the UK's ambassador to France and as the last governor of Southern Rhodesia before the country's independence in 1980.
Mr Cameron said he was "saddened" by Lady Soames's death.
He added: "In the week of the 70th anniversary of D-Day, we remember that she served her country in World War II and was an eye-witness to some of the most important moments in our recent history as she accompanied her father to key conferences.
"My thoughts are with her family, who can take pride in her distinguished life."
Her son, Tory MP for Mid Sussex Mr Soames, said: "She was not just a wonderful mother to whom we were all devoted, but the head and heart of our family after our father died, and will be greatly missed.
"She was a distinguished writer and led a distinguished life, with her service in the war, and is part of that generation which is passing.
"This is extraordinary timing - just before the anniversary of the Normandy landings, Churchill's last surviving child dies. It is the great swing of history."
In later life, Lady Soames became a patron of several leading charities and was a successful author. She published a biography of her mother and edited a collection of her parents' letters.