Newark by-election: UKIP shakes Tories but no 'earthquake'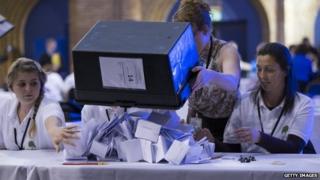 After UKIP's success in the European elections, some feared the political earthquake the party had promised.
In Newark it was more of a tremor, but without doubt one that shook the ground under the feet of some of their political opponents.
The party failed to get its first MP elected to Westminster, but it did leave a dent in the Conservative majority, although not as much as Mr Farage had hoped - or predicted.
David Cameron will use this by-election victory to say UKIP's bubble has burst and he has stopped the "people's army" in its tracks - but it took an army of his own to do it.
The Conservatives inundated Newark during the short campaign, with no less than four visits from the prime minister, and hordes of MPs and party activists.
The only time the market town has been under a similar siege from parliamentarians was during the English Civil War.
Win fight
This effort for an essentially safe Conservative seat shows the threat of UKIP can be more powerful than the party itself.
But Mr Cameron knew he had to win this fight.
If Nigel Farage had managed his "Krakatoa" and seen the UKIP candidate elected he would have used this to counter critics who claim his success so far cannot be carried through to the general election.
He would have heralded his party's first foothold in Parliament as a monumental moment.
Instead the other parties will use this result to claim UKIP's support is just a protest that will fall away when it comes to voting for who governs the country.
It is, however, undoubtedly proof of the changing political landscape that UKIP came a reasonable second place - vast progress from just 4% of the vote they won in 2010.
Something they will claim as a victory of their own.
Work to do
For the Lib Dems, the change in their political fortunes has been no less dramatic, but much less favourable.
They won a fifth of all votes four years ago but on Thursday their support was all but wiped out, coming sixth behind an independent and the Green Party, and losing their deposit in the process.
It is the latest in a run of bad results for the beleaguered party and will do nothing to bolster support for its leader, who failed to make an appearance in Newark during the short campaign.
This may not be a Lib Dem target seat - and when it comes to the general election they will focus effort where they have already got support on the ground.
But the fact they were not even in this race shows just how much work they have to do.
Labour came away less damaged, but still having been pushed into third by UKIP.
They blamed people voting tactically for the Tories to keep UKIP out, and professed to be pleased with their result in what they called a safe Tory seat.
But less than a year from the general election, third place is not ideal for the party that wants to win a majority.
In fact Nigel Farage wasted no time in claiming there was a new main challenger in town. Or in Newark at least.