Tories used Queen to repeat election slogans - Labour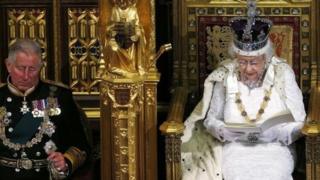 Labour has complained to the head of the civil service about the use of Conservative Party slogans in official government statements.
It claims the party has even used the Queen to get its message out to voters - by including the phrase "long-term plan" in the Queen's Speech.
Wednesday's speech - setting out the government's plans for the year - is written for the Queen by ministers.
The Tories made the same complaint about Labour in opposition.
In 2009, David Cameron attacked the final Queen's Speech by Gordon Brown's government as a "Labour press release on Palace parchment".
Conservative shadow ministers also complained regularly about the Labour government ramping up spending on publicly-funded advertising and propaganda in the run-up to general elections.
'Integrity and impartiality'
Labour's shadow Cabinet Office Minister has written to Cabinet Secretary Sir Jeremy Heywood to call for an investigation in to whether government communications are inappropriately using Conservative Party messages.
Michael Dugher claims the phrase "long-term plan" and "long-term economic plan" have become interchangeable as official government and Conservative Party messages - and he has put together a list of examples which he says proves this.
He has also stressed the need to ensure public funds are not being spent on party political campaigning with less than a year to go before a general election, pointing to an increase in the government's communications budget for 2014-15 to just under £290m.
Mr Dugher said: "The Conservative Party's key campaign slogan was line one of the Queen's Speech.
"The year before the election the government are increasing spending on communications and seem to be using the levers of power to push Conservative Party propaganda.
"I have called for an investigation in to the party political use of government communications to ensure we uphold the integrity and impartiality of the civil service and prevent public funds from being misused.
"With families feeling the squeeze in their living standards the public must have confidence that the machinery of government is not being manipulated for partisan gain."
Commenting on Mr Dugher's allegations, a Cabinet Office spokesman said: "There are clear guidelines on government communications which civil servants adhere to carefully.
"The 'long-term plan' is government policy as set out in the Queen's speech."
The Cabinet Office said it had yet to receive Labour's letter but would respond in due course.
'Stronger economy'
It is more difficult for coalition governments to use the final Queen's Speech before an election as a dry run for an election manifesto rather than a genuine programme for government, as Gordon Brown was accused by critics of doing in 2009.
The coalition is not standing for election - and one of the two governing parties can veto party political propaganda masquerading as legislation - but the use of slogans and phrases is harder to police.
On Wednesday, the phrase long-term economic plan" - often used by Mr Cameron and Conservative ministers in speeches and interviews - was used three times in background documents released with the Queen's Speech and the phrase "long-term plan" was used in the speech itself.
Her Majesty said: "My government's legislative programme will continue to deliver on its long-term plan to build a stronger economy and a fairer society."
Hitting back at claims the coalition had run out of steam, Conservative Party chairman Grant Shapps told BBC Radio 4's The World at One: "There's more legislation in this than in previous parliaments and - to borrow a phrase from the Queen - it has a long-term plan for this country."