Signs of an anti-UKIP backlash in Newark?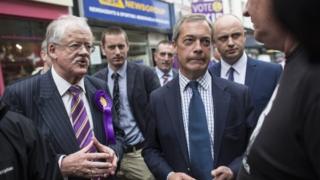 For the Conservatives, joy in victory and relief in disaster avoided.
For UKIP, pleasure at progress made but disappointment over what might have been.
For Labour, satisfaction in holding much of its core vote but concern at not challenging in a seat it once held.
And for the Lib Dems, worry over their worst by-election result since the war.
That is the brief summary of the Newark by-election.
The Tories threw time, money and effort at what was and is a safe seat.
They will not be able to replicate that in a general election. But a win is a win. It will boost Tory morale and restore some faith in its party machine.
Minor tremor
They will be happy at having done well in seat where the previous Conservative MP resigned in disgrace. It does not mean the Tories are any more or less likely to win the general election but no party would turn down the ripple of momentum that a victory like this gives them at such a crucial stage of the electoral cycle.
Perhaps most significantly the Tory victory puts a check on the UKIP bandwagon.
Nigel Farage's party did well, coming a strong second from nowhere. But they did not quite match their success at last year's by-election in Eastleigh. And having come second now in the last six by-elections, there is a risk that they are always the bridesmaid and never the bride.
UKIP promised an earthquake but Newark was struck by only a minor tremor. Their wait for a foothold in Westminster continues.
And here is the interesting point: Both the Lib Dems and Labour said that anecdotally some of their supporters had voted Conservative tactically to keep UKIP out. It is impossible to know how many until some detailed polling is done. But it suggests that an anti-UKIP backlash is out there, a kind of protest vote against a protest vote.
Lost deposit
Labour will content themselves that their vote share did not fall back too much. But third place here - for the first time since at least the 1930s - will not fill party strategists with confidence that they are appealing to voters in Middle England.
People discontented with the government of the day are not flocking to the official opposition of the day. To win a general election, that would have to change.
As for the Lib Dems, well at least they beat the Monster Raving Loonies. But their vote collapsed and they lost their deposit, coming sixth behind an independent and the Greens. This will put even greater pressure on the party to hold its so-called "fortress seats" where they claim incumbency will save many of their MPs.
Bottom line: Newark has not changed the terms of trade in politics. UKIP is still a potent force; Labour remains ahead in the national opinion polls; the Lib Dems are in difficulty; but it is the Conservatives who head towards the summer with a spring in their step.