May rejects claims of crisis over passport backlogs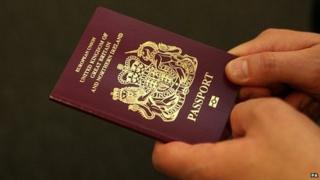 Theresa May has denied claims of a crisis in the passport applications system despite an "unprecedented" demand for passports earlier this year.
Unions have claimed job cuts over the past five years have caused long delays dealing with applications.
The home secretary told MPs there had been a "significant increase" in applications at the start of the year.
But she said the Passport Office had still managed to achieve its customer service targets.
'State of panic'
Speaking during a debate on the government's plans for the year ahead in Parliament, Shadow Home Secretary Yvette Cooper said MPs from all sides of the house had been contacted by worried constituents waiting to hear news about their applications and accused Mrs May of "taking her eye off the ball".
People "in a state of panic" about whether they would be able to go on foreign holidays or business trips were having to pay more to get their applications fast-tracked, she added.
But Mrs May said that despite the "unprecedented" rush in new applications and renewals in the first half of the year, 97% of "straight forward" applications had been dealt with within three weeks and 99% within four weeks in line with the agency's service standards.
While insisting the government was not complacent, she said it was "not true to say that the number of staff at the Passport Office has gone down" since "the number of staff at the Passport Office has gone up."
'Contingency plans'
But she acknowledged prompt handling of passport applications was a matter of concern for people and the situation would be monitored.
"We are continuing to look to see if there are further contingency measures that need to be put into place should we see the significant increase in applications we've seen in the first few months of this year continue."
The Home Office insisted there was no backlog but that 300,000 more applications had been received in the first five months of 2014 than in the same period last year and staff were working seven days a week to deal with them.
Officials also said that while the number of people working in the Passport Office was lower than before the abolition of identity cards in 2011, staff numbers had risen by more than 300 since 2012.
The Commercial and Public Services Union has said it believes there are 500,000 applications currently going through the system but it does not know how many have been delayed.
It has claimed the loss of a tenth of the agency's workforce in the past five years and the closure of local passport offices has contributed to "major problems".
The Commons Home Affairs Select Committee has called the head of the Passport Office, Paul Pugh, to answer questions about its performance next week while Labour MP Geoffrey Robinson has called on him to make a "graceful exit".
---
Applying for a passport
Guidance on the Passport Office's website says it should take three weeks for passports to be renewed although the process can take longer if more information is required or the form is not filled out correctly.
It states that people should not book holidays or make other travel plans until they have a valid passport, adding that those doing so do it "at their own risk".
Standard adult passports cost £72.50 to renew or £81.25 if you use the Post Office's Passport Check and Send service. Child passports cost £46 or £54.75 respectively.
Those needing a passport urgently can pay extra for a premium or fast-track service. A premium service, costing £128, means passports can be collected within four hours of being approved.
Under the fast-track service, costing £103, a passport is returned within a week of the application being approved.
For over-16s applying for their first adult passport, the Passport Service says people should allow for at least six weeks to receive it.
---
A number of people have contacted the BBC to tell us of the delays they have suffered trying to get passports.
Expatriates applying for passports from outside the UK have suggested that changes to the way their applications are handled have contributed to delays.
In the past, overseas applications were handled by embassy and consulate officials in seven regional processing centres around the world under the direction of the Foreign Office.
But between December 2012 and March 2014, responsibility for the application, handling, printing and delivery of overseas passport applications was transferred to the Passport Office in the UK.
The Home Office said that, at the same time, additional security checks came into force which have added to waiting times for overseas applications.