UKIP leader Nigel Farage declares £205,603 in gifts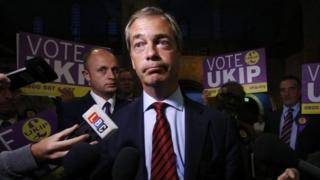 Nigel Farage has declared to the Electoral Commission over £205,603 worth of benefits-in-kind accumulated over more than 10 years.
The Electoral Commission says he should have made the declarations within 30 days of accepting the benefits.
It is considering whether to take action against him.
UKIP's leader has had free use of a barn for his constituency office since 2001 but until now has not informed the Electoral Commission.
The commission says he should have told them about the value of the rent-free deal.
Records released today show he failed to do so until after the property featured in news stories in April, and he was contacted by the Commission.
A commission spokeswoman said: "At the moment, our party finance team is still reviewing all of the necessary information supplied to us by Mr Farage and are considering it carefully.
"Once this process is complete we will take a decision on whether any further action against him is necessary."
It has the power to fine him up to £20,000.
But Nigel Farage said he had always declared the property - an old grain store near Lyminster - in a register in Brussels.
He told the BBC he had declared it as a benefit in kind there every year since 2001.
He added: "The Electoral Commission decided it's a donation in kind to UKIP. I don't understand it for a moment. I took advice which I thought at the time was right."
A UKIP spokesman said: "Every year since 2001, Mr Farage has declared in his European Parliament Register of Interests the use of a rent-free office from J Longhurst Ltd. The premises has been used as his MEP office so the European Parliamentary register was the logical place for it to be declared.
"Mr Farage was surprised to learn that the Electoral Commission thought it should be informed as well as this did not accord with the professional advice he had received at the time."