Anti-euro party joins Conservative group of MEPs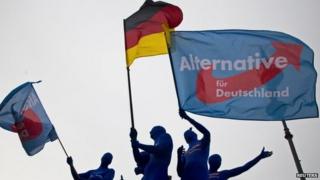 The group of MEPs founded by UK Conservatives has voted to admit an anti-euro German party into its ranks.
Members of the European Conservatives and Reformists (ECR) group agreed by 29 votes to 26 that the Alternative fur Deutschland (AfD) party should be allowed to join.
AfD is a new rival in German politics to Angela Merkel's Christian Democrats.
BBC Europe correspondent Chris Morris said the vote was a "setback" for PM David Cameron.
The move puts further strain on relations between the prime minister and German Chancellor Mrs Merkel, our correspondent said.
They already disagree about who the next president of the European Commission should be, with Mr Cameron keen for Mrs Merkel to reverse her support for former Luxembourg leader Jean-Claude Juncker and back a less federalist candidate instead.
'Proud'
Mr Cameron had urged Conservative MEPs to vote against AfD's admission, but Chris Morris said it was likely that a couple of Tory rebels voted in favour - enough for the application to be approved.
Downing Street said the PM was very disappointed with the outcome.
He needs Mrs Merkel's help if he is to succeed in his aim to renegotiate the UK's relationship with the EU.
AfD is led by economics professor Bernd Lucke and has floated splitting the euro in two - with a different currency for northern and southern Europe.
The party competed directly with Mrs Merkel's Christian Democrats for the right-of-centre vote in Germany, and won seven seats at the European Parliament, compared with the Christian Democrats' 34.
Meanwhile, London Conservative MEP Syed Kamall has been elected by the European Conservatives and Reformists group as its leader.
"I am proud to lead the ECR group - one of the EU's fastest growing political families," he said.
"I pay tribute to outgoing chairman Martin Callanan. Martin has been a strong supporter of the cause of European reform and euro-realism, and his hard work is a major part of the reason why the ECR is now growing and attracting new member parties."
Asked about the admission of AfD, Mr Kamall told the BBC: "Now is not the time to look back but forward."
In 2009, British Conservative MEPs parted company with the centre-right European People's Party, which is now the largest group in the European Parliament.
Mr Cameron argued that the group's federalist views were at odds with Conservative Party policy.