Chinese Premier Li Keqiang begins three-day UK visit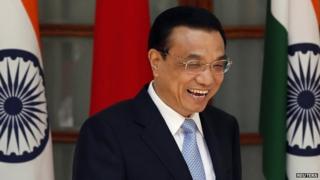 Chinese Premier Li Keqiang has arrived in the UK for his first official visit since taking his job last year.
Mr Li will hold talks with British Prime Minister David Cameron and meet the Queen at Windsor Castle.
He has said he hopes the visit will expand Sino-British co-operation and help "change misperceptions and misgivings" surrounding his nation.
But the UK has also said it remains "deeply concerned" about human rights abuses in China.
The three-day visit, part of a European tour by Mr Li, is the first by a Chinese premier to the UK since a diplomatic row in 2012 over Mr Cameron's decision to meet the Dalai Lama, Tibet's spiritual leader.
High-level relations were frozen for a time but, after a change of leadership at the top of the Chinese Communist Party in March 2013, Mr Cameron visited the country in December.
'Important partner'
The Home Office marked the start of the visit by announcing a new visa service, to be offered to all Chinese visitors to the UK following a pilot programme for tour operators last year.
Business and tourism visitors will be able to use a single application to process their visas for Britain as well as for a Schengen visa, which allows access to 26 European countries
A new 24-hour visa service to Chinese visitors will also be launched in August, while Chinese visitors will, from the autumn, be able to use an Irish visitor visa to travel to the UK without the need for a separate UK visa.
The move comes after Chinese authorities complained about the difficulties in travelling to Britain compared with other European countries - where one visa allows people to visit almost all the other EU member states.
Announcing the changes, Home Secretary Theresa May said the number of Chinese visitors to Britain was "soaring".
'Systematic abuses'
In an article for the Times, Mr Li called the UK "a great country and an important partner of China".
While China had achieved a "quantum leap" in its development in the past 30 years, it still "lagged behind" the West in many areas and had much to learn on its "long and arduous quest for modernisation".
"My visit has a threefold purpose," he wrote. "First, to discuss ways to deepen co-operation in various fields and therefore spur the growth of our respective economies.
"Second, to present the real China so as to change misperceptions and ease misgivings; and third, to draw on British perspectives and experience."
Mr Li, who has been accompanied by a large business delegation, is expected to formally agree commercial deals and investments worth up to £18bn in areas such as energy and finance.
Human rights
Speaking at his monthly press conference, Deputy Prime Minister Nick Clegg said he expected there to be "productive discussions" across a range of issues, including human rights, during Mr Li's visit.
While China had undergone an "extraordinary economic transformation" in recent decades, he said, that had not been accompanied by a similar pace of political reform.
Pressure for social and political freedoms was continuing to grow but the Chinese people, he suggested, were "still politically shackled to a doctrine which is a one-party-state, communist doctrine which is the antithesis of the kind of open, democratic society that I believe in".
The UK, he added, would "respectfully but firmly" make clear that it remained "deeply concerned about the very large-scale abuses of human rights that still occur".
"Of course, we cannot ignore the large-scale and systematic human rights abuses which still continue in China to this day," he said.
"The many journalists who are persecuted, the very widespread use of the death penalty."