Nick Clegg pledges to protect education spending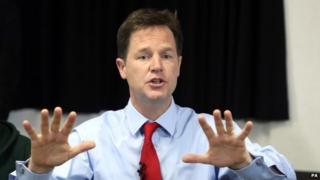 The Liberal Democrats will fight the next election on a promise to protect the education budget from "cradle to college", Nick Clegg has said.
This would extend the existing "ring fence" on schools spending to cover the ages from two to 19, costing an extra £10 billion a year, rising annually with inflation.
Mr Clegg made the pledge following a string of disastrous election results.
But Deputy Labour leader Harriet Harman accused the party of "broken promises".
Mr Clegg was outlining how his party would extend funding that currently only covers children aged between five and 16.
Investment
"Liberal Democrats will protect the full education budget, from the cradle to college," he told a Westminster news conference.
"Money invested in our children is the best investment of all because education can really transform lives.
"We believe education should be properly funded because education is the very core of a liberal society."
Mr Clegg said he would outline the funding implications of his pledge nearer to next May's general election.
"My challenge to Labour and the Conservatives is if you are not going to do this, what are you going to cut?
"Are you going to cut money to colleges? Are you going to cut apprentices? Are you going to cut help for toddlers?
"I think it would be unimaginable for us as a country, having made these steps, to reverse them."
'Toughest' party
Mr Clegg was speaking just weeks after his party finished sixth in the Newark by-election, lost all but one of its 11 MEPs in the European elections and shed more than 300 council seats in local elections across England.
He insisted he would continue leading the Lib Dems "as proudly and energetically" as he can, despite disagreements within the party.
Against a yellow background, with the words "Stronger economy, fairer society", behind him, he said he believed the Lib Dems' achievements in government had been "extraordinary".
"I think we've turned out to be the pluckiest, toughest, bravest party in British politics," he said.
"No-one expected us to both deliver the big things we have in government and stick with things in the way that we have... the last thing we're going to do under my leadership ... is to turn in on ourselves".
Last week Lib Dem MPs supported his continued leadership following a two and a half hour meeting of the parliamentary party.
But Ms Harman said she was not surprised Mr Clegg had chosen to focus on the future and not the past.
"He trebled tuition fees after promising to scrap them and joined with the Tories in increasing VAT after campaigning against it," she said. "His record is of collusion with the Tories and broken promises.
"Nick Clegg talks having repaired the British Economy but Nick Clegg and his Party must take responsibility for their government's failure which has caused the cost-of-living crisis families are facing.
"Working people are on average £1,600 worse off since the Lib Dems joined the Tories in government."