Miliband meets Chinese Premier Li Keqiang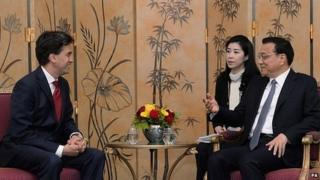 Labour leader Ed Miliband has met Chinese Premier Li Keqiang on the final day of his visit to the UK.
Mr Miliband said the two men discussed the economy, climate change, human rights and the future of the EU.
Earlier on Wednesday, Mr Li met Chancellor George Osborne at an event in London and hailed the two countries' growing economic partnership.
The Chinese leader said his country's economic growth was a "win-win" opportunity for China and the UK.
Commercial agreements worth £14bn have been signed during the three-day visit, Mr Li's first to the UK since he became premier last year.
Asked about China's future economic prospects, Mr Li said that while the rapid rate of Chinese growth seen in recent years had slowed the economy was not braced for a "hard landing".
In the medium to long term, he said he expected the Chinese economy to grow by at least 7.5% a year, providing major opportunities for exporters in the UK and elsewhere.
'Old declining empire'
"China and the UK should view each other's development as an opportunity," he said in a speech to the International Institute for Strategic Studies and Chatham House think-tanks at the Mansion House.
"We should have a win-win co-operation, a partnership for growth and inclusive development for the benefit of our two peoples and the whole world."
David Cameron hailed the growing relationship between the two countries when he hosted Mr Li at Downing Street on Tuesday.
But a Chinese newspaper owned by the ruling Communist Party has described the UK as an "old declining empire" and accused the British media of "hyping" concerns over human rights.
"British public opinion remains prejudiced against China and highly expects to embrace an opportunity to prove that it is superior compared with the emerging nation," the Global Times wrote in an editorial.
"Nevertheless, engaging in economic co-operation with Beijing is in its practical interests."