Registrar says sham marriage couples 'too amorous'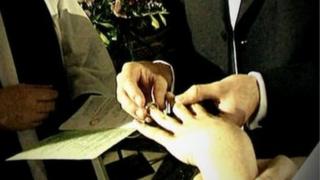 A registrar has told MPs that she can easily spot sham marriages - because the couples are "too amorous".
Oxford registrar Alicja Gilroy said she did not expect to see genuine couples "throw themselves over each other".
More than 2,000 reports of suspected sham marriages were made to the government by registrars last year, official figures show.
Border inspectors say they are "one of the biggest potential threats to immigration control".
Yet John Vine, Britain's independent inspector of borders and immigration, said ministers did not even know how many sham marriages had taken place.
He told MPs on the Commons Home Affairs Committee that the Home Office estimated there had been between four and 10,000 marriages in 2013 - but few of the people involved were prosecuted.
'Gut feeling'
"When I asked the Home Office in relation to my most recent report for the number of removals and prosecutions that had resulted from sham marriage, they were unable to supply me with the data," he said.
"There's a combination of a lack of intelligence about the extent of this issue, and also very poor management information that the Home Office has to work on in order to get a grip of it."
Ms Gilroy said she understood the going price for a sham marriage was between £500 and £3,000 - but she claimed she had developed a "gut feeling" about people's intentions.
"There can be too much interaction between the couple," she said. "If you're a genuine couple you don't expect to see them throw themselves over each other, but in our reception area sometimes those couples are slightly too amorous, where you don't need to be if you're a genuine couple."
Ms Gilroy said she tried to catch people out by asking questions about their address or their occupation in a different order to "throw them a little bit".
Manchester's most senior registrar Jonathan Kershner said being "forced to participate" in a sham marriage was not enjoyable.
"It's almost like being mocked in your job," he said. "We take our jobs seriously - we want to deliver a good service for couples - and then to have to perform a charade of a ceremony and possibly at the end of it to be asked to have a photo with the couple, is not a pleasant experience."