IT firms earn most from government spending - think tank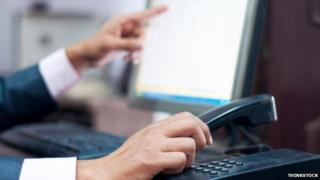 IT companies benefited most from government contracts in 2012 and 2013, an analysis of public spending transactions has suggested.
Think tank the Institute for Government and start-up firm Spend Network has analysed 38 million transactions involving 247 central and local government bodies.
Researchers found that HP was the largest single beneficiary.
But they warned that some of their figures were not accurate.
Although they praised the government for having published the data, they said caution was needed in interpreting the figures and said further verification would take place in subsequent days.
They also urged ministers to ensure that more details were made public, to help them conduct even more rigorous scrutiny in future.
The Institute for Government's Gavin Freeguard said: "It reflects well on the government's commitment to transparency that we've been able to produce this analysis of independent suppliers to government.
"Nonetheless, this research shows how difficult it is to analyse who is contracted to provide our public services and what it costs.
"Cost is also just one part of contract transparency - government needs to be equally transparent about contract terms and the performance of suppliers funded by taxpayer money.
"We hope our analysis will prompt government to improve the quantity and quality of the data it shares so future analysis becomes ever-more accurate.
"We're also grateful to those companies named in the report for their cooperation and for providing their own data."
'Genuinely meaningful'
Although the names of more than 180,000 suppliers featured in the analysis, the researchers found that the top 20 firms had contracts worth at least £10.2bn in 2013 - 20% of the spending examined.
Of the top 20 firms, six are IT firms, six are in construction and two are in outsourcing.
They were led by HP which accrued takings of more than £1.7bn in each of the last two years.
In 2013, the researchers concluded that 86% of this revenue resulted from a job centre contract with the Department for Work and Pensions, although the DWP said the figure was wrong.
A DWP spokesman said: ‪"The correct figure is several hundred million a year to cover the majority of IT services and IT development used by DWP. "This includes the IT platforms which are used for the processing of benefits and pensions."‬
According to the research, the second largest beneficiary was Capgemini, which earned more than 82% of its government revenue, or £850m, from one contract, for a project named Aspire, involving an overhaul of the IT systems at HMRC.
---
Top 20 firms, and their sector, by 2013 government earnings
HP, IT: £1,701,193,786
Capgemini, IT: £1,010,739,214
Capita, Outsourcing: £803,333,738
BT, Telecommunications: £753,976,060
Telereal Trillium, Facilities: £628,068,375
Kier, Construction: £602,979,737
Serco, Outsourcing: £445,193,324
Fujitsu, IT: £415,393,510
Atos IT, IT: £401,200,020
Carillion, Construction: £397,294,140
Balfour Beatty, Construction: £371,264,042
IBM, IT: £365,915,278
Amey, Construction: £314,256,127
Willmott Dixon, Construction: £301,813,720
Veolia, Waste management: £293,010,554
Interserve, Facilities: £341,259,736
CSC, IT: £306,279,738
Babcock, Defence: £293,170,856
EDF Energy, Utilities: £281,556,791
BAM, Construction: £195,886,561
---
The researchers detailed some flaws with the data: the names of many firms had been redacted, they said, and it was particularly difficult to trace the exact sums accruing to individual firms in contracts relating to complex private finance initiative (PFI) deals or those involving joint ventures.
A more consistent reporting regime for such deals, and the adoption of the World Bank's Open Contracting data standard, would help to ameliorate the situation, they said.
They also called for the publication of details relating to all central government deals with private firms worth over £500 - matching the current threshold for local government. At present, central government bodies only need publish details of contracts worth over £25,000.
Their report also concluded: "Genuinely meaningful data on the value for money of government suppliers would allow citizens and civil society to hold government departments to account for their ability to manage suppliers and public service markets effectively.
"For this reason, there should be clearer obligations to... publish details of their performance against contractual obligations, which some providers and agencies already provide but many do not."
A Cabinet Office spokeswoman said: "Through our long-term economic plan we have done more than any other government to open up contracts and address long-standing weaknesses in commercial skills.
"Before 2010 no one knew who government suppliers were nor how much business SMEs won. We are levelling the playing field for smaller companies and growing a more diverse market for suppliers but there's more to do particularly as major legacy contracts expire in the years ahead.
"We welcome this analysis which draws on our published data and will look at how we can go further with our transparency."
The NHS, some national agencies, and district councils were not included in the data, the researchers said.