Jon Cruddas and Rachel Reeves reported to watchdog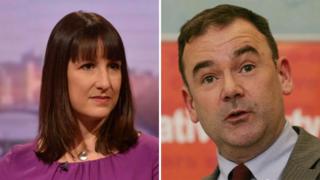 Parliament's standards watchdog is considering a complaint about the relationship between two senior Labour MPs and a think tank.
Rachel Reeves and Jon Cruddas are accused of failing to declare "sponsorship" by the IPPR in the register of MPs' interests.
Tory MP Charlie Elphicke said Labour appeared to have "contracted out" policy development to the think tank.
Mr Cruddas, Labour's policy chief, said the complaint was "totally ridiculous".
Ms Reeves, Labour's shadow work and pensions secretary, has yet to comment.
Labour leader Ed Miliband launched a recent IPPR report entitled the Condition of Britain, praising its "brilliant work" and explaining how it could inform Labour policy.
Mr Elphicke said the think tank's support should have been formally registered in Parliament.
'Warping independence'
There have been at least 10 events coordinated between the think thank and the party, he said in a letter to the Parliamentary Commissioner for Standards Kathryn Hudson.
He has already complained to the Charity Commission and the Electoral Commission about the issue.
Highlighting the former Labour advisors who now work for the IPPR he said, "It looks like effectively what was the Labour government has gone into exile in the IPPR.
"I think that is a warping of the independence of charities."
The IPPR said its recent work had not been commissioned by Labour and was available to all politicians.
Its director Nick Pearce said: "We do want to engage with politics. The role of think tanks is to inform public debate. Most MPs welcome the fact that at Westminster we have a healthy and lively think tank environment."
Mr Cruddas described the complaint as "totally ridiculous" and said the IPPR was an independent charity.
'Taxpayers' money'
Meanwhile, another Conservative backbencher, Conor Burns, has called for charities, like the IPPR, to be prevented from using public money to run political campaigns.
He told the World at One that he had the personal support of the prime minister, and expected to see progress before the autumn.
"I think there's something fundamentally wrong about charities getting public money, using that public money then to campaign to lobby the government to change policy," he said.
"That is a waste of taxpayers money. It is an abuse that should stop."
'Gagging claim'
Charities that receive public money should be subject to Freedom of Information law, and should only receive grants if it is clear how the money will be spent.
Sir Stephen Bubb, the chief executive of the charity group ACEVO, suggested politicians were seeking to silence their critics.
He said: "This is yet another attempt to try and gag charities raising issues of public concern. But the second point is that charities' work in delivering services is inextricably linked with our campaigning and advocacy roles."
The row was prompted after Oxfam used Twitter to warn of a "perfect storm" caused by "zero hours contracts, high prices, benefit cuts, unemployment and childcare costs".
At the times, Mr Burns said he was "shocked" by an "overtly political campaign".
Oxfam said it was a "resolutely non-party political organisation" and none of its government money was used for campaigning in the UK.