Cameron comes under attack after defeat in EU row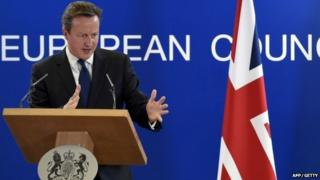 David Cameron has come under fire after his defeat in an EU vote over a new European Commission president.
Labour leader Ed Miliband said the UK was now "closer to the exit door" in Europe, posing a threat to the economy, and UKIP leader Nigel Farage said the PM had been "utterly humiliated".
But Health Secretary Jeremy Hunt said Mr Cameron had been "brave" to take on Europe and the debate had now changed.
Sweden and Germany said the PM's call for EU reforms would be considered.
Defence Secretary Philip Hammond said Mr Cameron had shown that the British government was committed to negotiating reform "not just for Britain's sake, but for the sake of all the people of Europe".
The UK forced the vote in an attempt to block the selection of former Luxembourg prime minister Jean-Claude Juncker, who is seen as a backer of closer political union.
But EU states voted 26-2 to appoint him president of the Commission, in what Mr Cameron described as "a bad day for Europe".
Scotland's First Minister Alex Salmond said Mr Juncker is the "living manifestation" of the ability of small states to have an influence in the running of the EU.
He said his nomination disproved an argument that those opposed to Scottish independence were trying to use to dissuade voters from voting yes in September's referendum.
He added that Mr Juncker's "own views are not going to dictate the future of Europe, it will be decided by the member states, but for David Cameron to suggest that was a particularly foolish move for which he has been thoroughly, comprehensively humiliated".
Mr Miliband said the prime minister posed "a clear and present danger" to the UK's future.
"David Cameron, by his own admission, is taking us closer to the exit door of the European Union, which would threaten three million jobs across the United Kingdom," he said.
Mr Miliband said European leaders questioned the prime minister's true intentions, which had prevented them from allying with him and was "bad for Britain".
He said Mr Cameron's strategy had "totally failed" and that he had been "comprehensively and humiliatingly" outvoted.
'Always complaining'
He said Mr Cameron had become "toxic" and was not the man for the job of reforming Europe.
Mr Farage, the leader of UKIP, which wants Britain to withdraw from the EU, said Mr Cameron's defeat left him "looking like a loser" who had learnt nothing.
He said Mr Cameron would be unable to renegotiate the UK's position, despite claiming that he could.
Mr Farage said there was a mood within the EU that it would rather get rid of the "friendless" UK than allow it to start "picking apart treaties".
He told the BBC that leaders viewed Britain as "a damned nuisance" that was "always complaining", and that while German Chancellor Angela Merkel said she would address British concerns, ultimately, when she "puts her foot down" everybody fell into line.
Mr Farage said the EU was a "political union" which the British people did not want.
Defending the prime minister, Mr Hunt accused some leaders of "cowardice" for backing Mr Juncker's appointment. He said they would have to "work much harder" to persuade the UK that the EU could change.
The health secretary also said there had been a "sea change" in the wider debate and that EU leaders "desperately" wanted the UK to remain a member and would be open to "concessions and compromises".
Mr Hammond said: "We have to have significant reform with significant repatriation of powers to national parliaments and national governments if we're going to have a sustainable model for the future. We will continue to talk to our European partners about such a renegotiation."
Despite being one of the UK's closest allies in Europe, Sweden backed the appointment of Mr Juncker.
But the country's prime minister, Fredrik Reinfeldt, said after the vote that he knew closer union was not "for everyone".
Mr Reinfeldt pointed to a document issued by EU leaders after the vote which accepted that the idea of an ever-closer union should not apply to all member states.
"You will find references with text, which I think is very important for David Cameron, saying this ever-closer union perception is maybe not the best for everyone."
He highlighted that this had "never been stated" by the EU before.
Germany also supported Mr Juncker's appointment, but Mrs Merkel said there would be a review of how the president was nominated and said she shared Britain's ideas about what the EU should be like.
Mr Juncker was the preferred candidate of the European People's Party (EPP), the largest group in the European Parliament, and his appointment must now be endorsed by the parliament.
The appointment of the European Commission president has previously been by consensus but Mr Cameron opposed the choice and his demand for a vote was granted.
Mr Cameron tried to convince other countries to oppose Mr Juncker, a former leader of Luxembourg, but in the end only the UK and Hungary did so.
He warned the appointment would hand more power to the European Parliament and take it away from the heads of government.
The BBC's Europe editor, Gavin Hewitt, said the prime minister needed a shift in power back to national parliaments in order to sell the idea of a reformed Europe to the British public.