Miliband guru Glasman regrets criticisms of leader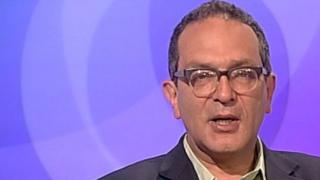 Ed Miliband's one-time policy guru Lord Glasman has said he was wrong to accuse the Labour leader of lacking a sense of direction in a newspaper article.
In the Financial Times, the peer claimed Mr Miliband had not presented a "coherent story" about how he will win the next election.
The comments came after Mr Miliband attempted to woo business with a new policy on regional devolution.
Lord Glasman said he had apologised for the article which he wrote a week ago.
But the timing of the piece, less than 24 hours after the Labour leader set out what was being billed as a major new policy - a plan to hand control of £30bn in development funds to the English regions to boost growth - was potentially embarrassing for Labour.
'National renewal'
And Conservative leader David Cameron made the most of it at prime minister's questions, adding in references to other recent media stories about Mr Miliband's alleged troubles, telling Labour backbenchers: "I would say to the people looking behind you - cheer up folks, it's only Wednesday."
In the FT, Lord Glasman argued that while Labour could win under Mr Miliband, "what is missing is a sense of direction".
He said Labour's policy chief Jon Cruddas had outlined "a good set of policies", but added: "They have not been presented as a coherent story.
"Labour must explain that elite vocational colleges and regional banks are part of a reform plan that is pro-business and pro-worker. It must set out how access to capital by regional businesses and creating a skilled workforce are part of the same growth story."
He went on to say: "The problem for Labour is not that it lacks policy but that it lacks a narrative of national renewal...
"I suggest Mr Miliband takes a couple of novels rather than think-tank reports as his summer reading. He needs to tell a story in his speech to the party conference - not about himself - but about the country he wishes to lead to a place where we can make things better."
Apology
Lord Glasman's ideas on reconnecting Labour with its traditional working class voters influenced Ed Miliband in the early days of his leadership. But his Blue Labour project, backed by Mr Cruddas, fell apart after the peer made a controversial call for immigration to be halted.
The peer told BBC Radio 4's Today programme he regretted writing the piece. "I wrote it a week ago and I've apologised for that," he said. "I did get it wrong. My point is we need a genuine story to generate the energy and I think that's happening."
Mr Miliband is reported to be caught between those, like Mr Cruddas and Lord Glasman, who want him to set out, bold radical ideas to the electorate and the more cautious approach of general election campaign chief Douglas Alexander.
Senior Labour figures were forced on to the defensive earlier this week after Mr Cruddas was secretly recorded talking about bold policies being stifled by the "dead hand" of the leadership.