Rennard accuser quits Lib Dems after losing appeal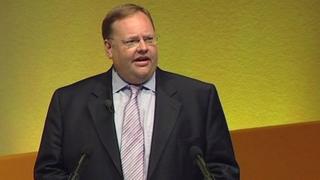 One of four female activists who accused former Liberal Democrat chief executive Lord Rennard of sexual harassment has resigned from the party.
Susan Gaszczak said she had quit after the party refused to reopen an investigation into a man she called a "thorn in the side" of the Lib Dems.
The peer, who remains suspended by the party, apologised in May for any "inadvertent" intrusion.
A Lib Dem spokesman said they were "saddened" by Ms Gaszczak's decision.
The peer apologised in May for his behaviour, saying he "may have encroached upon personal space".
Lord Rennard, who helped the Lib Dems win a host of by-elections over a 20-year period before stepping down in 2009, was asked to apologise after an internal party probe by QC Alistair Webster.
It concluded the claims by Ms Gaszczak and three other women were credible but could not be proven beyond reasonable doubt.
'Destroying party'
Three of the four complainants subsequently challenged the way the Webster review was conducted and its interpretation of party procedures, appealing against its findings to the party's English Appeals Panel.
In an open resignation letter, referred to on her Twitter account, Ms Gaszczak said the panel had "thrown out our appeal to an unfair process".
"Even though I have complained and raised this for over seven years, the party still do not see the complaint as an issue," she wrote. "I have been called credible more than once. Yet still no-one feels it is appropriate to deal with the issue."
The party activist said she "could no longer remain a member of a party that feels it acceptable for the then chief executive to invite me to his hotel room to advance my political career". She added: "You have a serious thorn in your side. He claims to have built the party but actually I see him destroying it."
Bridget Harris, a former aide to Nick Clegg who also complained about Lord Rennard's behaviour, accused the party of a "very public, institutional head in the sand moment".
Lord Rennard is challenging his own suspension from the party, which was invoked in January pending a further probe into allegations he brought the party into disrepute by failing to apologise.
'Open justice'
This investigation has not yet concluded and Lord Rennard's own appeal against the suspension has yet to be resolved.
In late May, the peer issued a statement saying "it was never his intention to cause distress or concern to them by anything that he ever said or did".
Saying he wanted to achieve closure, he also apologised "for any such intrusion and assured them (the women) that this would have been inadvertent".
It was initially suggested that the peer was unwilling to apologise due to concerns that he could open himself to civil action in the courts.
But Lord Carlile, a close friend of the peer, said in May that Lord Rennard had not been able to apologise earlier because had not been shown the findings of the Webster report for many months, a position he said flouted "open justice".
Lord Carlile also cited other factors for delaying the apology, such as a subsequent mediation process to resolve the issue which broke down and then Lord Rennard's decision to "hold back" until after European and councils polls so as not to damage the party.
A Liberal Democrat spokesman said: "We are saddened that Susan Gaszczak has made this decision which was clearly very difficult for her. She has been a devoted and passionate campaigner for the Liberal Democrat cause over many years and will be sorely missed by many in the party."