Timeline: 1980s child abuse allegations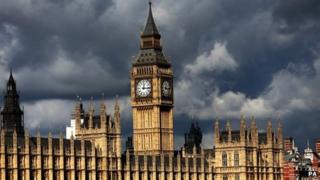 The key events that led to the launch of two reviews into the way allegations of child abuse were handled in Westminster and wider society.
Claims of an establishment cover-up of historical child sex abuse involving public figures, including politicians, prompted Home Secretary Theresa May to announce two inquiries in July 2014.
One is an overarching inquiry into the way public bodies and other important institutions have handled child sex abuse claims. A separate review into how the Home Office dealt with allegations about powerful figures and paedophilia in the 1980s reported in November.
What are the key incidents that led to these inquiries?
1982-84: Conservative MP Geoffrey Dickens tells a newspaper he plans to expose eight prominent figures he says are paedophiles. The long-standing campaigner against child abuse gives written information detailing alleged child sex abuse within the establishment to Home Secretary Leon Brittan. Mr Brittan passes them to his officials. The papers are handed to police and prosecutors.
1994: Peter McKelvie, a former child protection manager, is among the first to raise concerns that prominent politicians are allegedly involved in child sex abuse. He discovers suggested links between paedophiles and the government while assisting police investigating an influential paedophile, Peter Righton.
2012: Mr McKelvie takes his concerns to Labour MP Tom Watson after news of the Jimmy Savile abuse scandal breaks. Mr Watson claims during Prime Minister's Questions that there is "clear intelligence suggesting a powerful paedophile network linked to Parliament and Number 10".
Late 2012: A "scoping exercise" known as Operation Fairbank is launched to examine Mr Watson's claims and establish if there is sufficient evidence for a formal inquiry.
Elsewhere, abuse allegations against the late Liberal MP Cyril Smith are aired in Parliament by Rochdale MP Simon Danczuk. Greater Manchester Police say he should have been prosecuted.
January 2013: Police launch Operation Fernbridge to investigate allegations about a paedophile network linked to Parliament and Number 10, centred on the Elm Guest House in Barnes, south-west London.
February 2013: Mark Sedwill, the most senior Home Office civil servant, launches an independent review of more than 746,000 files from 1979 to 1999 that were passed to the Home Office to identify any information received about organised child sex abuse, and the outcome of any action taken.
August 2013: The Home Office says, in a summary of its review online, that copies of Mr Dickens's material "have not been retained".
Mr Sedwill says in 2014 that the review found some 114 files were missing, although he found no evidence they had been removed or destroyed "inappropriately".
The review also found Lord Brittan acted appropriately in dealing with the allegations.
1 July 2014: Labour MP Mr Danczuk brings the written information passed to the Home Office by Geoffrey Dickens, who died in 1995, back to public attention by calling on Lord Brittan to reveal what he knew about it.
2 July 2014: Lord Brittan releases a statement saying he passed the papers to his officials to examine. Later that day, he issues a further statement clarifying that while he "could not recall" what further action was taken, the information in the Home Office's 2013 review "shows that appropriate action and follow-up happened".
4 July 2014: Prime Minister David Cameron orders Mr Sedwill to look again at the handling of the 2013 Home Office review,.
7 July 2014: Lord Brittan issues another statement dismissing claims he did not act properly on the allegations put to him by Mr Dickens as "completely without foundation".
Home Secretary Theresa May announces two reviews of historical child sex abuse allegations:
An independent inquiry to investigate the way public bodies and other non-state institutions have handled child sex abuse claims, led by former judge Elizabeth Butler-Sloss
A review into Home Office handling of historical child sex abuse allegations and the way police and prosecutors dealt with any information given to them, led by NSPCC chief executive Peter Wanless
Later that day: Greater Manchester Police says there will be a wider investigation into an alleged cover-up of sexual abuse claims at Knowl View residential school in Rochdale, which is linked to the MP Cyril Smith, who died in 2010.
14 July 2014: Baroness Butler-Sloss stands down as head of the independent inquiry. She faced calls to quit because her late brother, Sir Michael Havers, was attorney general in the 1980s.
31 October 2014: Lord Mayor of London Fiona Woolf, named the new head of the inquiry on 5 September, steps down. Some victims and their representatives called for her resignation after she disclosed she had five dinners with Lord Brittan from 2008-2012. Mrs May says she will consult victims before naming a third person to lead the inquiry.
11 November 2014: Review by NSPCC chief executive Peter Wanless said it was impossible to say whether files were removed to cover up abuse - but found nothing to support such concerns. Also finds no evidence that the Paedophile Information Exchange (PIE) was funded by the department.
21 January 2015: Lord Brittan dies after a long battle with cancer.
4 February 2014: New Zealand judge Lowell Goddard is named by the home secretary as the new head of the inquiry.