Ex-senior judge Butler-Sloss to head child sex abuse inquiry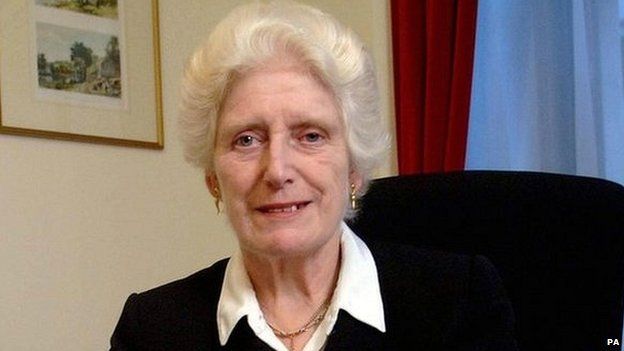 Retired senior judge Elizabeth Butler-Sloss has been named as the chairwoman of a wide-ranging review into historical child sex abuse.
The inquiry will examine how state institutions handled their duty of care to protect children from paedophiles.
Baroness Butler-Sloss led the Cleveland child abuse inquiry in the late 1980s.
Labour MP Simon Danczuk, who led calls for an inquiry, said she could be seen as "part of the establishment" but others welcomed the appointment.
Lady Butler-Sloss, 80, is a member of the House of Lords and sister of former Lord Chancellor Michael Havers.
"We don't want it look like an establishment inquiry - that would send out the wrong signal to the public," said Mr Danczuk.
But former Conservative children's minister Tim Loughton said she would "command great respect, great expertise and great knowledge which is absolutely what we need at the head of this inquiry".
It comes after Mark Sedwill, the Home Office's top civil servant, answered MPs' questions about historical child abuse allegations.
He was asked by the Commons Home Affairs Select Committee how his department lost or destroyed 114 files that could have shed light on alleged abuse.
Mr Sedwill told the committee the files, which relate to the 1980s and 1990s, were discovered missing after an expert investigator was drafted in to look into the Home Office's handling of paedophile allegations in February last year.
He said the investigator discovered they were missing after he trawled a database of 750,000 files using search terms including "child abuse", "paedophilia" and "PIE", an anagram for the Paedophile Information Exchange.
Mr Sedwill stressed that the inquiry had not found any evidence that documents had been inappropriately destroyed and told MPs they should "not assume there is anything sinister" in their absence.
Mr Sedwill said he did not know the names of the files or how large they were. But he said he was "concerned" they were missing.
He was ordered by the committee to produce the names of the files by Friday.
He also said he "shared" the executive summary and "broad conclusions" with Theresa May after the report was produced in June, but it was "not appropriate" for her or her advisers to see the full version, he said.
Lady Butler-Sloss's broader, independent inquiry, will look at how seriously public bodies and other important institutions have taken their duty of care to protect children from sexual abuse.
The probe aims to address public concern over failings exposed by recent child sex abuse cases involving celebrities such as Jimmy Savile and Rolf Harris.
Mr Sedwill said Lady Butler-Sloss's inquiry would not be pursuing individual cases, although she would want to hear cases of that type.
She was determined to "leave no stone unturned", he said, adding that he was sure her report would "be thorough and complete".
Announcing the peer's appointment, Home Secretary Theresa May said: "In recent years we have seen appalling cases of organised and persistent child sex abuse that have exposed serious failings by public bodies and important institutions.
"That is why the government has established an independent panel of experts to consider whether these organisations have taken seriously their duty of care to protect children from sexual abuse."
Lady Butler-Sloss said: "I'm honoured to have been invited to lead this inquiry - the next step is to appoint the panel and agree the terms of reference. We will begin this important work as soon as possible."
Lady Butler-Sloss was coroner for the inquests into the deaths of Diana, Princess of Wales, and Dodi Al Fayed until she stepped down in 2007.
Her report on child sex abuse in Cleveland during the 1980s - which had led to more than 100 children being removed from their families - resulted in the Children's Act 1989.
As part of a two-pronged attack on child abuse, Home Secretary Theresa May announced on Monday a separate review, headed by the NSPCC's Peter Wanless, which would focus on concerns the Home Office failed to act on allegations of child sex abuse contained in a dossier handed over in the 1980s by former Tory MP Geoffrey Dickens.
Mr Sedwill told MPs that the Wanless review would be given independent legal advice from Richard Whittam, QC, First Senior Treasury Counsel at the Central Criminal Court.
Earlier on Tuesday Jim Gamble, former head of the police's Child Exploitation and Online Protection Centre, criticised the decision to bring in "amateurs" to find out what happened to the files, instead of "professional investigators".
Labour leader Ed Miliband said he would look at whether the proposed inquiries were "sufficiently comprehensive and sufficiently over-arching to get at the truth about what happened".
It comes after former child protection manager Peter McKelvie claimed at least 20 prominent figures - including former MPs and government ministers - abused children for "decades".
Mr McKelvie, whose allegations led initially to a 2012 police inquiry, said a "powerful elite" of paedophiles carried out "the worst form" of abuse.
He told the BBC he had spoken to victims over "many, many years" and that children - "almost exclusively boys" - were moved around like "lumps of meat".
Mr McKelvie was a child protection manager in Hereford and Worcester and worked on the conviction of paedophile Peter Righton - a former consultant to the National Children's Bureau.
Righton, who is now dead, was also a founding member of the Paedophile Information Exchange (PIE), before he was convicted of importing child pornography.
However, Mr McKelvie told the BBC that the evidence discovered in the case went much further than simply Righton.
Mr McKelvie - who had access to documents relating to paedophile networks linked to the Righton inquiry - said he told police in 2012 there were seven boxes of potential evidence being stored by West Mercia police.
He said the evidence included letters between Righton and other alleged paedophiles.
In 2012, Mr McKelvie took his concerns to Labour MP Tom Watson, who then raised the matter in Parliament, prompting a preliminary police inquiry in 2012 that became a formal inquiry in 2013.
In another development, footage emerged of a former Conservative MP suggesting to the BBC in 1995 that party whips might not disclose certain behaviour of colleagues including that "involving small boys".
Tim Fortescue, who was a senior whip in Sir Edward Heath's government from 1970-73, claimed that MPs would "come and ask if we could help and if we could, we did".
Former Labour minister Lord Warner, who carried out an inquiry into children's homes in the early 1990s, said he believed Mr McKelvie's claims were plausible.
Related Internet Links
The BBC is not responsible for the content of external sites.