Row over call to give more tax powers to English cities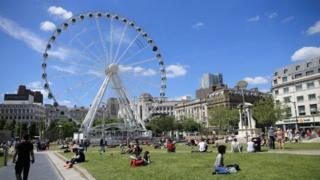 Boris Johnson has backed calls by a group of MPs to give English cities more control over tax money.
Leaders of cities such as Manchester, Liverpool and London should have the same power as politicians in Scotland and Wales, the local government committee said in a report.
The London mayor said ministers "could not ignore" the "excellent" findings.
But the government rejected it as "blinkered" and said its proposals would drive up taxes and destroy jobs.
All the main parties have said they want to grant more power and autonomy to the English regions in an attempt to end the dominance of London over the British economy and create more jobs.
The government has handed some control over the money raised by business rates - currently sent to the Treasury for distribution - to local authorities.
'Framework for devolution'
Labour has also pledged to give some local authorities more control over spending - and has said it would encourage councils to band together to form region-wide "economic powerhouses" to push through big infrastructure projects and boost investment.
But the select committee is calling for a "framework for devolution" that would gradually see all local authorities given power over business rates, stamp duty, council tax and other smaller taxes and charges.
Committee chairman, Labour MP Clive Betts, said: "If the citizens of New York, Frankfurt and Tokyo can be trusted with tax-raising powers, why not the people of London, Greater Manchester or the North East?
"Local areas know best how to stimulate their economies. With a wider range of revenue streams at their disposal, they would be able to invest in infrastructure and projects that mattered locally - without having to rely on or wait for handouts from central government.
"Local people would then reap the rewards through increased tax take, which could be reinvested in their areas. In the same vein, if local politicians failed to deliver, they wouldn't be able to hide behind Whitehall and Eric Pickles."
'Concentrating power'
Boris Johnson said "there was now growing and welcome cross-party consensus that recognises the economic benefits of giving greater control of taxes raised in English cities back to those cities, which is very difficult for the Treasury to ignore".
"The modest reforms that I and others have been campaigning for and that are endorsed in this report, would provide England's cities with the means, incentives and crucially the stability of funding to deliver much needed jobs, growth and infrastructure," added the London mayor.
Local Government Association (LGA) chairman David Sparks said there needed to be "a new constitutional settlement" for the English regions to define what local government should do and what should be left to Whitehall.
But Local Government Minister Brandon Lewis rejected the report's findings.
"We disagree with the calls in this report for higher council tax, higher parking charges, higher business rates and new hotel taxes. There is no public appetite for a barrage of new stealth taxes on hard-working people and local firms, which would force up the cost of living and destroy jobs," said the Conservative minister.
"This government has devolved down funding and powers down to local communities, from housing finance to business rates, whilst avoiding higher taxes.
"Contrary to this report's blinkered view in concentrating power in the most distant and unaccountable tiers of municipal authority, we believe in devolving power down to the lowest appropriate - to councils, neighbourhoods and most importantly, direct to local taxpayers."