Warsi right for EU Commissioner job - Lord Kinnock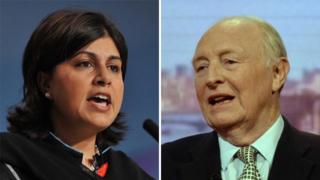 Foreign Office minister Baroness Warsi has ruled herself out of the running for a job as an EU Commissioner - after Lord Kinnock said she should get it.
David Cameron has yet to nominate the UK's candidate for the role.
Former health secretary Andrew Lansley and ex-Tory leader Lord Howard are among those said to be in the running.
But Lord Kinnock, the former leader of the Labour party - and a former European Commissioner - said Lady Warsi would be the perfect choice.
Speaking in the House of Lords on Thursday, he said the Conservative peer "demonstrated such a full understanding of the real nature of the role of the commissioner and the way in which the reform agenda has got to be promulgated and effectively developed in the European Commission".
Following calls for the job to given to a woman, he added that Lady Warsi was "manifestly a woman".
"In order to make a real breakthrough and in order to fully represent the proper interests of this country in the contexts of the realities of the treaty, which have been misrepresented by UKIP and by certain members on your own side, may I make so bold as to nominate you for the position," he told the peer.
Lady Warsi said the former Labour leader's remarks were "very kind".
But she added: "It is an incredibly important job, but I can honestly say it is not a job I am interested in."