Lib Dems accused of 'hypocrisy' over bedroom benefit rules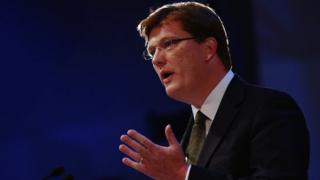 Labour has accused the Lib Dems of "unbelievable hypocrisy" over calls for changes to the benefit cut for people judged to have too many bedrooms.
The changes, called the "bedroom tax" by critics but described by ministers as the removal of a "spare room subsidy", were introduced last year in England, Scotland and Wales.
Danny Alexander said the Lib Dems wanted to see "fairer rules".
The Tories called it a "cynical PR stunt" and stood by the reforms.
A Conservative Party source added that the Lib Dems "have never demanded the restoration of the spare room subsidy in private; and have campaigned for its abolition in public".
Downing Street said there would be no change of policy.
"The prime minister's view has not changed and won't change," said David Cameron's spokesman, adding that more policy differences between the coalition parties were likely to emerge as the general election approached.
'Fairer rules'
The changes have meant a cut to the housing benefit paid to eligible council tenants and those who rent from housing associations who were judged to have bedrooms that they did not need.
If tenants are deemed to have one spare room, the amount of rent eligible for housing benefit is cut by 14%. Those with two or more spare bedrooms have reductions of 25%.
Writing in the Daily Mirror, Mr Alexander said the government's benefits were working. But he said that not enough people had downsized, adding: "It's time to change our approach in this particular area."
Mr Alexander proposed that nobody should face a cut in state help if there was no suitable smaller property available, and that disabled claimants should be exempt.
New tenants in the social rented sector should still be subject to the changes, he said, but existing tenants would only be penalised if they were offered a "suitable smaller home and, crucially, turn it down".
New analysis
Mr Alexander said the Lib Dems would "make the case for these new fairer rules" immediately, adding: "If we cannot convince our Conservative coalition partners, we will commit to these reforms in the our 2015 Liberal Democrat manifesto."
A senior Liberal Democrat source told Chris Mason the party could not be precise at this stage about how much their proposed change would cost, but it is thought it would be around a few hundred million pounds.
The party pointed to an analysis published earlier this month for the Department for Work and Pensions which suggested that one in 20 of those affected by the cut had managed to move house within the first six months of the policy.
In his article, Mr Alexander said there was a problem of social housing which is under-occupied, while others are on a waiting list for such housing.
He said the reform was made "with the best of intentions" but added: "We have always said that we'd be guided by the evidence and now we have it."
'Unbelievable hypocrisy'
Ministers say private sector renters do not get spare rooms for free, and argue the policy will save around £500m a year. But critics say it is forcing households into arrears.
A Downing Street spokesman said: "Bringing the bloated Housing Benefit bill under control is a key part of our long term pan to fix welfare.
"Our reforms are working - and it's imperative we stick to them. The Conservatives are committed to this."
Rachel Reeves, Labour's shadow work and pensions secretary, said: "This is unbelievable hypocrisy from Nick Clegg.
"The Lib Dems voted for the bedroom tax. There wouldn't be a bedroom tax if it wasn't for the Lib Dems. And in February when Labour tabled a bill to scrap the bedroom tax, the Lib Dems were nowhere to be seen."
Labour Peer Lady Bakewell told BBC News the policy was a "dead parrot" because "it hasn't worked".
Lib Dem Justice Minister Simon Hughes denied that the party had "changed our mind" about the policy.
"Our party was clear that what we in the end negotiated in Government was not an ideal solution," he told BBC Radio 4's Today programme.
He said he had argued at the time that people should not be penalised for having a "spare" bedroom if there was not something smaller for them to move to.
He said: "The policy seems to us now in need of change. What we shouldn't be doing is just paying extra money as a subsidy. We should be saying to people... if you can't go to anywhere smaller, if the local authority and other social housing providers can't offer you anywhere, you absolutely shouldn't be penalised if you're staying in the property you've always been in".