Cycling investment should increase five-fold, say MPs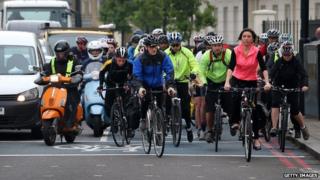 A five-fold increase in spending on cycling infrastructure is needed to increase both actual and perceived road safety for cyclists, MPs have said.
Investment should rise from an estimated £2 per person to £10 per person in the next six years, according to the Transport Select Committee.
A "cultural change" is also needed to improve relations between drivers and cyclists, the committee has concluded.
But ministers said cycling investment was already increasing significantly.
At the end of an inquiry on how roads could be made safer for those on bicycles, the committee said cyclists had complained of aggressive driving, poorly-designed junctions and a failure to enforce speed limits.
'Necessary'
Committee chairwoman and Labour MP Louise Ellman said: "Transport ministers must demonstrate clear political leadership by championing cycling and the Department for Transport must coordinate action across government on this vital agenda."
Last year 109 cyclists were killed on roads in England, Scotland and Wales, with more than 3,000 serious injuries.
The committee found that there was "limited evidence of a widespread culture that is supportive of cyclists as road users", despite Prime Minister David Cameron last year calling for a "cycling revolution" following successes in the Olympics, the Paralympics and the Tour de France.
Ms Ellman said: "Spending on cycling is currently estimated to be just £2 per head. To make the necessary improvements to cycling infrastructure and training, we call for spending to be increased to £10 per head by 2020.
"Investing in cycling will make the roads safer for all users, and encourage more people to cycle and walk."
The committee also called on the heavy-goods vehicle industry to improve its safety record, and argued that bicycle training should be made available to more schoolchildren.
It also called on the Driving and Vehicle Standards Agency it ensure that motorists are tested on their approach to sharing the roads with cyclists.
'Back of the envelope'
Jon Snow, president of national cycling charity CTC, said: "The positive recommendations made by the select committee are good news.
"But we need our government to go one step further and make the commitment to at least £10 per head funding to make safe cycling in the UK with immediate effect, not six years from now."
Shadow transport secretary Mary Creagh said: "Labour welcomes the committee's support for safer cycling.
"Improving cycle safety requires a long-term plan, not the unplanned, back-of-the-envelope approach we have seen under this government.
"Labour has committed to introducing a duty to consider cycling when designing new roads and to reducing the risks that HGVs pose to cyclists with our HGV Cycle Safety Charter and better cab design."
But a Department for Transport spokesman said it had more than doubled cycle funding to £374m.
He said: "This money, which with match-funding will top £622m, is helping to deliver safer junctions and roads, improved cycle links, better safety training in schools and more cycle parking.
"We recently announced an extra £130m to support cycle networks in towns and cities across England and Wales and another £15m for improving the integration between rail and cycle journeys."